There is nothing but good words to say for the Skullcandy Crusher headphones. They are very portable and easy to use, the battery life is excellent and the sound quality is just perfect. However, if you have just bought these headphones you may be wondering how to pair Skullcandy Crusher Wireless headphones with your computer, smartphone or tablet.
You have nothing to worry here, we've got you covered. Just follow the instructions given below and in case they won't pair after you follow this guide we have some troubleshooting options at the end of it.
So, let's begin!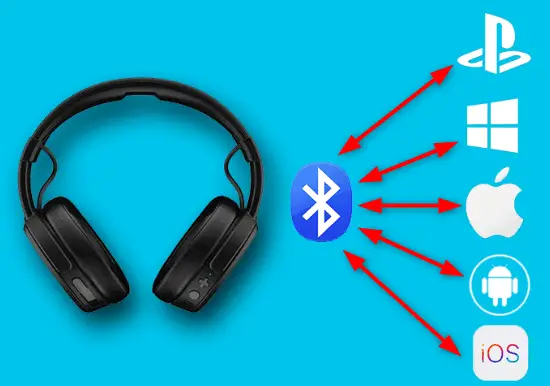 Table of Contents
How to activate pairing mode on Skullcandy Crusher Wireless Headphones?
Before you put them into pairing mode, make sure they are well charged. Now, with your headphones off, press the Power button (the round one) and hold it for about 3-5 seconds. When you see a red and blue blinking light, release the Power button. There is also an audio signal that indicates that pairing mode is active. Now you should find the headphones on your device.
Discover the Skullcandy Crusher Headphones on Different Devices
Now, after you have put your Skullcandy Crusher Wireless headphones into pairing mode, it is time to discover them on your device to finish the pairing process. To avoid any issues, make sure the headphones and your devices are close.
Pair with Android Phone
Activate pairing mode on your Skullcandy Crusher headphones
Unlock your smartphone
Swipe down with your finger from the top of the home screen.
Tap on the Settings (gear) icon
Select Connections and enable Bluetooth if it's off.
When you activate it, tap on Bluetooth.
Your Crusher headphones should be visible in the Available devices section. If they don't wait a little.
Select your Crusher headphones to pair.
When they connect they will appear in the Paired Devices section.
Pair with iPhone/iPad
Put the Skullcandy Crusher into pairing mode.
Unlock your iPhone and tap on the Settings icon on the home screen.
Select Bluetooth from the list and enable it if it isn't.
You should see the Skullcandy Crusher in the Other Devices section.
Select your headphones there and once they connect you will see them in the My Devices section.
Test the audio now.
Pair with Windows 10
Put your Crusher headphones into pairing mode.
Press the Windows logo key and S on your keyboard. The Search app will open.
Type Bluetooth. Press the Enter key to launch "Bluetooth and other devices settings"
If Bluetooth is OFF, activate Bluetooth.
Click on the plus sign next to "Add Bluetooth or other device".
Select Bluetooth in the new window.
The Add a device window will open and it will start searching for your Skullcandy Crusher headphones.
Click on them and choose Connect.
Pair with MacOS
Activate the pairing mode on your headphones.
On your Mac computer top menu click on the Apple logo.
Choose System Preferences.
Find and click on Bluetooth.
Click the Turn Bluetooth On button, if Bluetooth isn't already active.
Skullcandy Crusher should be listed under Devices.
Click the Connect button.
Test sound.
Pair with Chromecast built-in Bluetooth
Activate pairing mode on your headphones.
Go to your Home screen, and then to the Settings menu.
Scroll down to Remote & Accessories.
Now select Pair Remote or Accessory
When you see your Skullcandy Crusher headphones select Pair.
A notification saying Skullcandy Crusher Connected will appear if the pairing was successful.
Pair with PS4
The good thing about Skullcandy Crusher Wireless headphones is that they can easily be paired with your PS4.
As mentioned earlier we need to put our headphones into pairing mode first.
Now on your PS4 go to Settings.
Then select Devices, and then Bluetooth devices.
In the new window you should see the Skullcandy Crusher wireless headphones. In case they don't show up immediately, wait for a few seconds.
Select the headphones and you will be asked "Do you want to register a Bluetooth device?". Select YES and they should connect.
Check the sound on your device now. Either run a soundcheck or start playing a game to see if everything works well.
Confirm that pairing was successful
When your Crusher Wireless headphones pair successfully you will see the LED light start blinking blue and you will also receive a voice confirmation "Pairing successful. Connected."
Skullcandy Crusher Wireless Headphones Won't Pair – What to do?
Sometimes, for no apparent reason, the pairing process will fail.
The first thing to do in that case is to restart your headphones and the device.
If that doesn't help, you can reset your Skullcandy Crusher headphones. The process is pretty simple and it resolves the problem in most cases. To do it, just press the volume + and – buttons at the same time and keep them pressed for about 5-10 seconds until you hear two beeps. When you hear them, release the buttons. Activate pairing mode again and proceed with the pairing process as we have described in this article.
Final Words
As you can see it is pretty easy to understand how to pair Skullcandy Crusher wireless headphones. Just follow the instructions given above depending on the device you are using. All you can do now after you have paired them successfully is to enjoy the excellent sound quality and increased listening or gaming experience.
You might be interested in: