The Sony WH-1000xm3 wireless headphone promises to deliver a pleasurable sound experience to its users. For music entertainment, learning or gaming, you can count on this piece of professionally designed gadget from a reputable brand. But if the SONY WH-1000XM3 won't turn on, it's practically useless.
Table of Contents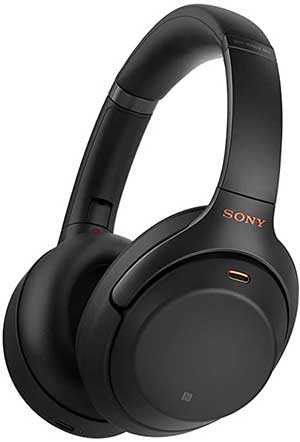 When you experience this problem of Sony WH-1000xm3 not turning on for the first time, it can be very frustrating. Maybe you just got into a specific context where you need to put it into use. Unfortunately, your headphones just disappointed you.
Though there could be different causes of this problem, we'll look at multiple ways to solve it. Possibly, what worked for other people, will work in your case as well.
How To Fix Sony WH-1000xm3 Not Turning On
Check this first
Is your battery charged enough? Before you try to turn the headset on check whether the battery is charged enough.
Is your battery charging at the moment? SONY headphones WH-1000XM3 won't turn on while the battery is charging. You will have to disconnect the USB Type-C cable first and then try to turn the headset on.
In case the battery is charged enough and WH1000XM3 not charging at the moment and the Sony WH-1000xm3 not turning on, you should reset your headphones.
Reset Your Sony WH-1000xm3 Headphone
Turn off your wireless headset while the USB type-C cable is disconnected
Plug the USB cable into the headset to start charging
While the USB cable is still connected, press the power button and NC/Ambient button
Hold it for 7 – 10 seconds. When the blue light indicator flashes, your headset will be reset
Please note that you may need to charge your Sony WH-1000xm3 after resetting. Just disconnect and reconnect the USB type-C cable again. To start using it again, delete the headset from the list of Bluetooth products on your device. When this is done, you can pair the headset to your selected device again.
Request Replacement
Depending on the store where you bought your headset and the warranty offered at the point of purchase, you may need to request a replacement of your Sony WH-1000xm3 noise cancelling headset. Before requesting for replacement, consider the possibility of getting expert guidance from the vendor's support team on how to fix the problem.
Frequently Asked Questions
Why won't my Sony WH-1000xm3 turn on?
Most times, if your Sony WH-1000xm3 is not turning on, it could be because the battery was not inserted correctly. At other times, the battery may need to be replaced. When the cause of Sony headphones won't turn on is not among these two scenarios, you may need to do a simple reset.
How do you fix wireless headphones that won't turn on?
The simplest solution is to do a factory reset. But first you have to check the battery status if it needs charging or replacement. If these options don't work, then you may have to replace the headphones entirely.
Why is my Sony headphones mic not working?
First, you have to check if your microphone is set enabled as the default device. Try to unmute the microphone. In some cases, updating your audio driver will fix the problem within minutes. Please check the manufacturer website on how to update your Sony headphones audio driver.
How do I reset my Sony headphones?
You can reset your Sony headphones in 3 – 5 steps. Just follow the guide in this post.
Why are my Sony headphones not charging?
When your headphone batteries are not inserted correctly it will not charge as expected. This is the very first thing you have to check. In case you use an incompatible USB cable, the headphone will not charge as well. For this specific reason, you need to find a cable that is suitable for Sony devices. If these simple solutions didn't work, then you may have to replace the battery.