Since Apple and other major brands removed the headphone jack from their smartphones, the wireless technology developed significantly. However, the only concern when listening to audio using your Bluetooth headphones was the lower audio quality.
Fortunately, this is where aptX HD does its job. Thanks to this technology the quality of audio being streamlined via Bluetooth improved significantly.
Let's take a closer look at aptX HD.
If you are already familiar with it, feel free to go through our selection of best aptX HD Bluetooth headphones.
Table of Contents
What Is aptX HD?
On the technical side, aptX HD is a codec which supports 24-bit Bluetooth audio transmission. When you compare aptX HD with other wireless ways to send audio from your device to your headphones or speakers, the sound quality delivered using aptX HD is drastically higher. If you prefer using wireless over wired headphones then the aptX HD is a perfect option for you.
Do I need aptX HD?
Whether you need or don't need aptX HD greatly depends on you. Most users are more than satisfied with the standard Bluetooth audio quality. So, if you don't care much about the sound quality then you don't need aptX HD. On the other hand, if you want to be aware of the best details in your favorite songs, games and movies then aptX HD is the right option for you.
The best thing would be to listen to audio with and without aptX HD. You will notice the difference after a few beats.
Is my device aptX HD Compatible?
One of the things you need to be aware of before you buy one of the Best aptX HD Bluetooth Headphones is that the headphones and the device you send music from need to support the aptX HD codec. Since Qualcomm developed the aptX HD codec, the best and easiest way to check whether your device supports aptX HD is through their website here.
If you are an iPhone user unfortunately Apple decided not to support the aptX HD codec so it's a good thing to know if you were planning to send music to your aptX HD Bluetooth headphones via your iPhone.
Which headphones support aptX HD?
In order to take full advantage of the aptX HD technology you have to make sure your headphones support it. Generally speaking, if the headphones come with the CSR8675 Bluetooth audio system-on-chip (SoC) they will easily support 24-bit audio.
For a full list of aptX HD headphones you can visit the official aptX website or check our selection of the Best aptX HD Bluetooth Headphones
Please note that for a best audio experience both the headphones and the devices you are sending music from should be aptX HD compatible.
Best aptX HD Bluetooth Headphones
---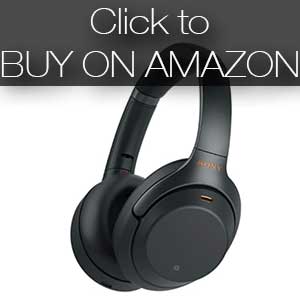 The award winning Sony WH-1000XM3 headphones are probably the most comfortable noise-cancelling headphones ever produced by Sony. Whether you are looking for great noise-canceling headphones or headphones with great sound quality the Sony WH-1000XM3 fits perfectly well on top of both categories.
The right earcup has a touch-sensitive panel for controlling the tracks and volume, take phone calls or activate the voice assistant of your choice. These headphones come with Alexa built-in and you can activate it with just a touch.  Another nice feature is the Quick Attention Mode. In case you need to turn down your music instantly all you have to do is to cover the right earcup with your hand.
Sony WH-1000XM3 uses digital noise cancelling. The noise-cancelling feature is four times better than in the previous versions as Sony claims. The sound is simply perfect and without doubt we can say these are the best sounding wireless headphones thanks to aptX HD and Sony's LDAC.
The key element of the functionality and performance of the Sony WH-1000XM3headphones is the SONY | Headphones Connect app. It is available both on Google Play store and Apple App Store and provides a wide variety of options to control and fine tune your listening experience.
Pros
Great comfort and sound quality
AptX HD Bluetooth
Supports NFC pairing
Supports Amazon Alexa and Google Assistant
Up to 30 hours of battery life
Quick charge (5 hours playback from 10-minute charge)
Custom sound profiles and touch control earcups
Foldable
Very good overall sound
Unbeatable all-rounders and the best Sony headphones you can buy right now. Easily the best noise-cancelling headphones ever made.
---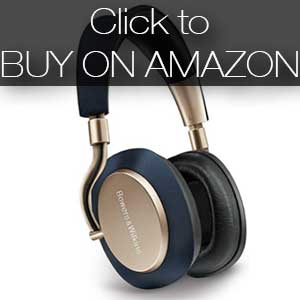 We have to say that Bowers & Wilkins did a very good job with their Bowers & Wilkins PX headphones. This company decided to compete on the market offering luxury design and high-quality audio. Additionally, these headphones offer adaptive noise-cancelling feature which is not top notch, but the audio quality will make you neglect any lack.
The playback time with one charge goes up to 22 hours and the headphones can be recharged using USB-C.
These headphones come with Bluetooth 4.1 and aptX HD. This is enough to make sure to provide high quality streaming audio and reduced latency.
One of the features we found handy was the built-in sensor which stops the music when you take off the headphones and the music resumes when you put the headphones back on.
Pros
Built from good quality materials
Easy and intuitive controls
Excellent sound quality
Smart sensors
Beautiful design
Cons
Can be uncomfortable because of the thin earcups and high clamping
Bulky
Noise-cancellation could be better
---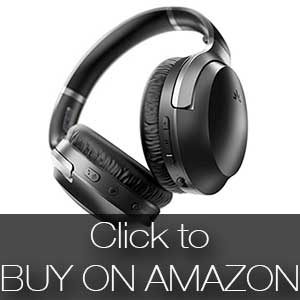 The Aria Pro is a lovely cost-friendly headphone that has active noise canceling features. It performs quite remarkably for its low-price range of $70. It is a comfortable device and provides amazing isolation from noise.
Because of the lightweight of the Avantree Aria and it's thick faux leather earpads, it doesn't cause discomfort for long-wearing hours. The earpads fit different kinds of ears while the flexible headband extends to accommodate bigger heads. Because it is more plastic, it doesn't have much clamping force.
With the Aria Pro's Active Noise Canceling feature, more background noise is reduced although it lowers the bass slightly. Using the ANC activates a LED indicator, and there is no hissing sound when the ANC is in use.
The closed-back design and earpads improve noise isolation and block interfering noise. It also adds to the noise-canceling and helps to save battery and keep unwanted noise away even when you turn off ANC.
The Bluetooth performance range is around 10m (30ft) and passes through 1 wall although it's not so reliable after the second.
With Bluetooth 4.1, it connects quickly with NFC and when using correct settings can pair to the last music device.
On paper, it is said to last up to 35 hrs but that is without ANC. It lasts between 10 – 15 hours when using noise cancellation. Turning it off frequently saves battery life but the battery life does not go beyond 10 hours when all the features are turned on. It charges with a micro USB and achieves full charge within 3 hours.
Aside from the actual earphones, the package comes with a user manual, micro USB charging cable, 5mm Aux cable, and a slick, high-quality zipper carrying bag.
The Aria ANC sound is good enough and has better bass. The high bass is powerful and the headphone is averagely clear but improves when you turn on ANC.
Avantree Aria Pro Specs
BT Version: V4.1
Operation range: Class 2, 10 meters
Supported code: Fast Stream, SBC
Supported profiles: HSP, HFP, A2DP, AVRCP
Impedance: 32 Ohm
Driver diameter: 40mm
Frequency response: 20Hz~ 20KHz
Rechargeable lithium battery
Up to 35hrs playtime
Pros
Fits well
Microphone mute button
Good passive noise isolation
Foldable design
Cons
Plasticky
ANC fluctuates sound
Generally, the Avantree Aria Pro is remarkable for an ANC headphone that sits pretty well on your ears and doesn't eat deep into your pockets.
---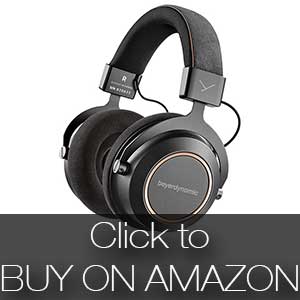 Amiron wireless copper is built to provide users with the experience of high end wired Amiron models. Although it compromises on noise-canceling, the focus is on the quality of sound.
It fits fine and clamps your head well enough. The headphones are light and this makes them easy on your ears. The Bluetooth version is 4.2 and so can connect to any Bluetooth enabled device that is within 10 meters or about 30 feet.
If you have a phone that is compatible with aptX HD then you can use it with this headphone. Despite being able to achieve these connections the playback time is still about 30 hours and a USB-C Port is provided for charging the device.
It comes with a cable that you can use when the battery runs out if your phone has a headphone jack. The Amiron copper does not come with any buttons as it is controlled through a touchpad and quick swipe/touch action lets you perform operations or answer calls.
The Bluetooth pairing is fast and indicates with a LED light. However, the power button is not really in a cool spot.
The package comes with a 1.2m cable, a hard case, USB-A to USB-C cable for charging.
Using the Beyerdynamic app on your phone helps you customize the sound your headphones produce. Without the customization, the sound is just a little above average and the audio did not emphasize any spectrum.
The music comes out natural and open. However with the customization, everything is much more enhanced, however, this headphone may not be your choice if you prefer bass. However, it is incredibly balanced.
Beyerdynamic Amiron Wireless Copper Specs
Cable length 1.2m
Weight 380 g
Max power 200mW
Battery life 30 hrs
Bluetooth version 4.2
Impedance 32ohms
Pros
Very impressive sound
Great aesthetics
Amazing quality
Cons
Poor bass
Optimized for hi-res audio only with wired connection
If you desire wireless headphones that will balance the sounds in your ear and draw you out, then this is it.
---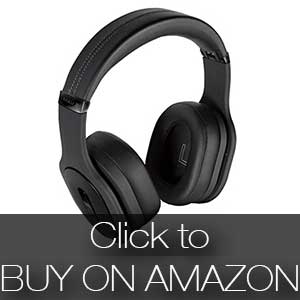 PSB M4U 8 is a high-quality headphone with excellent audio, dependable wireless connectivity, and superb noise cancellation features.
If you are a frequent traveler, this bulky headphone can make your journey more comfortable because the headbands and ear cups are heavily padded.
The right ear sports lots of control buttons including the fast forward and rewind that can be used for calls. The aux port also makes it available for wired connection while the micro USB port on the ear cup is used for charging the device.
Although bulky, plastic makes it more portable. This headphone is built for comfort because of the secure clamp yet it does not compromise on sound as expected from a product from PSB.
The bass is not so heavy and mega bass users will have to pass on this one but the high end is incredible in addition to it's clear and concise sound. The M4U has great noise-canceling features and connects to devices within 10 meters although the Bluetooth version is unspecified.
Battery life is fair enough but can be better as it lasts for 15 hours, it may be enough for long flights but you'll need to charge intermittently for continuous playtime.
Although the microphone is not so great, it's able to pick up clear voices and is reliable when making calls. The features are great if you consider that it comes dressed in black with a user manual, USB to micro USB charging/audio cable, 3.5mm to 6.25mm adapter, airplane adapter, a hard travel case, 1-year warranty, and an AUX cable.
PSB M4U 8 Specs
Built-in microphone
Impedance: 30 ohms (wired)
Frequency response: 20-20,000 Hz
Many earcup controls
Gyro-suspended ear cup design
Pros
Provides playback option
Has several accessories
Cool battery life with extra battery options
Bulky and sturdy
Cons
The ANC is overrated
Clamping pressure may be too tight
It feels plasticky
Slips off during jogging
If the cost is not a problem, then its simplicity and good sound make it a product worth buying.
---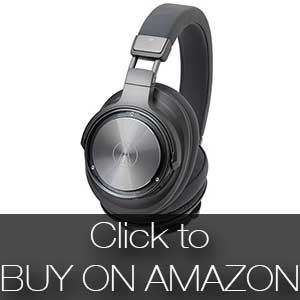 Only a few wireless headphones can pick a 24-bit sound and Audio Technica does this especially with its aptX HD. It is not so stylish because the simple controls are found under the two ear cups. They also have space to wiggle which makes it noisy and terrible for exercise.
But it has an unconventional touch panel beside the volume slider that switches sound or takes calls. There is a plastic seal on the micro USB charging port that prevents water damage.
The fact that you'll buy this headphone for a very high cost but cannot use it beyond 15 hours is daunting, even worse a full charge lasts five hours but this only poses a problem if you're staying that long without access to power. The noise-canceling is just passive enough for a closed-back model.
However, this headphone excels in expanding and separating sounds. The performance is similar to an open headphone or planar magnetic and the 45mm True Motion drivers are just superb.
The  Audio-Technica ATH-DSR9BT is better than most lower-end headphones because the bass is cleaner, reacts fast and the sounds are clearer. However, it cannot be said to be neutral because the sound is heavily mid-range.
This is particularly great for enhancing detail but the treble and upper mids often cancel out lower male vocals. The high mids doesn't mean that the lower mids are really terrible, it's just the tonal imbalance is quite noticeable.
The boxing also contains manuals, a cable pouch, carrying case, and a micro USB charging cable.
Audio-Technica ATH-DSR9BT Specs
micro-USB charging
Bluetooth 4.2
aptX HD
45mm drivers
15hr battery life
Pros
Soundstage is perfect
Sound is clear and concise
Cons
Poor battery life
Lacks wired option
If you overlook the tad too many design issues with this product and focus on the sound, then it is a great choice.
---
Final Thoughts
We hope that this article has made it a bit easier for you to choose the best aptX HD Bluetooth headphones. If you are primarily listening to your music using Bluetooth then it is highly recommended to test the aptX HD technology by yourself. We are sure it will be love at first…listening.
Enjoy!
Related
Best Lightning Connection Earbuds