When you think of top-quality sound the first thing you think of is Harman Kardon. What crosses your mind is experience, tradition, quality that improves with age. The amazing sound coming from a box makes everything sound perfect. Now imagine what it looks like with these two Bluetooth speakers paired. It's hard to imagine such perfection, you have to experience it. You have nothing to worry about, it is easy. So, let's see how to connect two Harman Kardon Onyx Studio 6 speakers. 
Table of Contents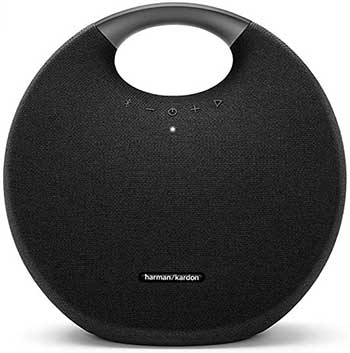 Can two Onyx Studio speakers connect?
Absolutely yes. Not only that you can pair them, but you can do it very easily thanks to the excellent and easy connection for a more powerful sound. Ideal for those who like to party. 
Pair Harman Kardon Speakers – A Step-by-Step Guide
To be able to pair two Harman Kardon speakers, you need to follow the steps below. Read thoroughly and do one step at the time.  One thing that is important when connecting these speakers is the sequence of steps. It is not the same for the first and second speakers. You have to be attentive and patient. We will explain to you step by step. 
Step 1
The very first thing you have to do is to turn on Bluetooth on your phone. The first step is to press the power button on the first speaker and wait until it turns on. You will know that it is on when you see the light and hear sound that accompanies turning on. In the beginning, the light will flash and when the speaker is turned on, the light will be on constantly. You started well.
Step 2
In the second step, you need to turn on the Bluetooth button on the speaker so that you can pair it via Bluetooth with your mobile phone. When you turn on Bluetooth, you hear a beep sound, the start light pulsates, and you know you are in pairing mode. The speaker's name will appear in the list of devices on your phone, and when you click on the Bluetooth speaker, the pairing procedure will start.
Step 3
To make sure you have paired the speaker with your phone, be sure to play some music just to check if everything is done properly. If you hear music on the speaker, you have successfully connected the speaker to the phone. Now you are ready to take the next step.
Step 4
If you have done everything as described above you can turn on another speaker. After turning on another speaker, do not turn on the Bluetooth button on the other speaker.
Step 5
Press the Connect and "+" button on the first speaker That one is the speaker which is already paired with a mobile phone. After you have done that, press the same Connect button "+" on the other speaker. This way you will synchronize both speakers.
Step 6
If you followed the steps and did everything as described, after playing the music, you should hear music on both speakers. You have done everything correctly and you are ready to enjoy.
Can't pair your Harman Kardon speakers? Read this.
If you can't pair your speakers, it means you have to go back to the beginning and follow the sequence of steps as described.
Before that, disconnect the Bluetooth speaker from your phone and go one step at a time as described. It is also important to take into account the distance of the speakers from the device to which they are connected via Bluetooth. If you still have a problem then it is best to contact the manufacturer's support directly.
Final Words
If you want to enjoy a louder sound or if you want to organize a party and you want to have high-quality sound and an easy connection, then this is a great way to get it. Two premium Harman Kardon Bluetooth speakers that easily connect to your phone or other devices that support this connectivity platform.  They are of high quality, very stylish, with a high to mid-range prices and always on the top of audio equipment.  A great solution that will serve you flawlessly. Everything you need to know to enjoy the amazing sound is how to connect two Harman Kardon Onyx Studio 6 speakers.