If you are looking to buy the best in-ear monitors, without having to invest in the whole system or going over the budget, you are in the right place. This article will help you choose the best IEMs under $100.
IEMs or In-Ear monitors are also known as earphones or in-ear headphones. They are designed to fit into the ear canal thus providing excellent isolation for the surrounding sounds. This makes them perfect for people who are traveling a lot or spend time in loud places but still want to enjoy their music.
The market today is full of IEMs so finding the best IEM for you can be quite challenging. So, while taking proper care of our budget here is our selection of the best IEMs (In-Ear Monitors) under $100.
Table of Contents
---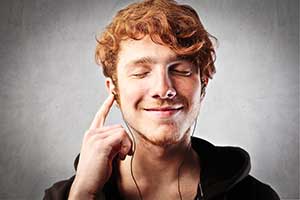 ---
6 Things to consider when buying IEMs
Comfort and Fit – If you can try before you buy them, you should choose the IEMs that fit your ears best. We highly recommend putting comfort before sound quality because we want to enjoy our new IEMs. In some cases, the IEM will sound perfectly well, but if you start feeling some ear fatigue after a short time you will be disappointed.
Sound Signature – If you are new into IEMs we recommend you going after neutral IEMs which will do their job for every genre of music. The thing here is that your music taste can change over time.
Build Quality – Durable cables or removable cables is the first thing you should look at when choosing the best IEM for you. If you are going after the cheapest version you don't have to worry about the quality. You can easily buy new IEMs.
The Ear Tips – Different tips can affect the sound signature. It is always better and more affordable to experiment with different tips than to buy new IEMs.
Warranty and Support – When buying your new IEMs always try to get some information about the warranty, support, or repair options.
Test them before purchase if possible – What sounds great for you doesn't mean it will sound the same for someone else.
---
The 5 Best IEMs under $100 – My Top Picks
---
What's included?
Shure SE215 Sound Isolating Earphones
Durable reinforced cable
Compact, soft carrying case
foam and silicone ear tips come in three sizes: S, M, and L
Cleaning tool
Documentation
---
The Shure SE215 is the right choice for every future audiophile because of the excellent sound quality and even better noise isolation.
The Shure SE215 comes in three color variations: black (K), blue (SPE), and Clear (CL) so if you are wondering what SE215-CL means, now you know that it refers to the color variation.
These IEMs are lightweight and comfortable. Just like other in-ear headphones, they are designed to fit into the ear canal and block the surrounding noise and sounds. Luckily, they don't go too deep into the ear which makes them comfortable and you can take them off without problems.
Thanks to the three replaceable ear tips they will fit all ear sizes and guarantee comfort. We especially liked the detachable cord and carrying case, although we wish it was a hard case, not a soft one.
The sound quality is impressive thanks to the single dynamic micro driver. And turning up the volume doesn't affect the sound quality. The sound isolation is excellent and can go up to 37dB. The bass is extremely good as well.
Pros
Well balanced and clear
Solid sound isolation
A detachable and replaceable cable
6 different sizes of ear tips
Cons
Mic quality is not the best
No extra cable
Bulky cable
---
What's included?
Simgot EM2 earphones
An excellent leather case
2 sets of ear tips (one set for enhanced bass and another for treble)
Braided cable with 2-pin connectors
---
It is no wonder why the Simgot EM2 IEMs are often on the list of the best budget IEMs in this "IEM under 100" price range. Whether you want to enjoy your music or working on a mix, the integrated drivers (one dynamic and one balanced high-definition driver) will deliver an excellent frequency response and crisp and clear sound.
The Simgot EM2 comes in five color variations. However, only the Clear and Translucent Black color variations fit into our "best IEM under $100†category. The other three colors (Green, Pink, and Purple) are slightly above this price limit but they are worth checking.
The Simgot EM2 are very well designed, very lightweight, and comfortable. They sit comfortably inside the ear even after a few hours of use.
If you take a look at the connector cable you will see that it has been upgraded to SPC X4 (silver-plated detachable version) and you can be sure that the transmission is the most quality one. The braided cables guarantee durability, so you don't have to worry about that. They are compatible with most smartphones and audio players.
The earbuds provide excellent sound isolation which is expected in this type of earbuds.
Pros
Detachable design
The leather case
The hybrid driver system
Cons
The bass can be a little lighter for some people
---
What's included?
Sennheiser IE 40 PRO earphones
3 pairs of silicone ear molds in various sizes
A pair of memory foam earmolds
A cleaning tool
A carry case
---
Regardless of your intended use case, the Sennheiser IE 40 Pro is a multi-functional sound monitoring device that serves pro users in different contexts. For example, you can use this one for DJ services or as a pro musician. 
People that are specifically interested in the top-rated in-ear headphones for drummers also find Sennheiser IE 40 Pro to deliver satisfactory performance. 
Beyond affordability considerations, Sennheiser has packed a lot of exceptionally appealing features into this great IEM under $100.
These features and the positive experiences of recent users are some of the reasons why it is included in this list. Perhaps, if you have been looking for the best in-ear monitors, this one deserves serious consideration. 
One of the key benefits you'll experience with Sennheiser IE 40 Pro, especially in loud environments, is the innovative diaphragm system. 
This is the main thing that makes the delivery of soothing warm sound possible. 
Judging by the sales statistics and reviews from other recent buyers, this product has been proven to work well for DJs and live stage performers. Even at maximum sound levels, the special diaphragm, tight shielding, and soft foam tips make most users have distortion-free experience. 
Unlike other similar devices, the single driver system ensures that its frequency range doesn't have to be split into sections. 
Assuming you end up with Sennheiser IE 40 Pro, this unique feature promises a coherent, well-rounded balanced sound experience. 
In terms of sound quality, I found this tool to deliver impressive value for the money. More than any other context, it is best suited for live stage performance. 
Pros
Tightly fitting ergonomic design
The cool coherent sound delivered through the single driver
Easily removable cable
---
What's included?
Stereo audio cable
Headset cable
6 pairs of silicone ear tips
Comply memory foam ear tips
2 shirt clips
1/4†adapter
User manual
Protective carrying case
1-year manufacturer warranty
---
Whether you are a brand loyalist or not, here is another in-ear headphone worth checking out. The point I am making is that brand popularity shouldn't be the sole criterion for making a purchase decision. 
Looking at the phrase attached to its name, "2n generationâ€, MEE audio M6 Pro promises upgraded sound quality. In addition to this, you'll have a chance to experience a natural treble and an improved accurate midrange. 
For extra noise isolation, you'll get comfortable memory foam tips that help to fit the device tightly into your ears during usage. 
According to many experienced users, the first generation of the M6 Pro has exaggerated highs. If this is a big consideration for you, then consider this 2n generation MEE Audio M6 Pro a great alternative. 
Coming with this device is a detachable cable that will allow you to use on and off stage as you like. Even on the very first impression, the design looks solid with a crafted shape that fits tightly into the ear. Unlike some other competing models, the product comes with a headset cable, built-in mic, and remote. These features make it easy to control the device from your phone. 
Though the brand is not so popular in comparison to others in the niche, its features are strong enough to get the job done. The extra accessories made it more appealing too. 
Pros
Lots of useful accessories
Upgraded sound quality
Sold bass response and dynamics
Cons
The Bluetooth quality needs improvement
---
What's included?
Rugged storage case
Silicone ear tips (XS/S/M/L)
1/8″ to 1/4″ plug-on adapter
1.6m cable with A2DC connectors 
---
Having been around for a long time in the music equipment market, Audio Technica has made a strong name for making high-quality products. Interestingly, it has earned a top position among the makers of best in-ear monitors. 
Other manufacturers claim to have an ergonomic design, but the Audio-Technica ATH-E40 offers the ultimate experience. 
Based on the high quality of its memory foam loops, you can wear this for long performance hours without any iota of fatigue. Another impressive benefit is the fantastic level of separation you'll experience while wearing it. This provides high-level sound clarity with great detail. 
If you are to do a simple Audio Technica ATH E40 vs Shure SE215 comparison, this is one of the key points I found some recent users repeating across many other reviews. 
Depending on your current needs, you can use this tool for sound monitoring and mixing. More than many other products in this "IEM under $100" buying guide, this model has been proven to offer a powerful bass response for most users. 
A strong and older brand name works in favor of Audio Technica. And that shows based on the sales volume and the number of users this product has attracted over time. However, high-level noise isolation and powerful bass are the two most important factors mentioned repeatedly by many recent users. 
Pros
Very powerful and impressive bass
Outstanding design for a long hour use
Cons
It is comparatively pricey
---
Frequently Asked Questions about IEMs
Can you use in-ear monitors as headphones?
The answer to this question is Yes, but this is not their primary use. High-end IEMs are expensive and they are designed for sound engineers and professional musicians. Therefore if you want to use the IEMs as headphones feel free to choose one of the best IEMs under $100 from our list.
Are in-ear monitors better than headphones?
There are several reasons why IEMs are better than headphones. For example:
They are made for professionals and thus will provide studio-quality sound which is much better than the sound quality of standard headphones or earphones.
Sound isolation is much better since they seal the ears better and block the surrounding noise.
The audio produced by IEMs is as close as possible to the actual sound thanks to the advanced technology they use. 
IEMs are much more comfortable, they perfectly fit the ear canal, and guarantee ultimate comfort. 
They are super portable and discreet compared to headphones.
IEMs give you better control over the audio you are listening to. 
IEMs will give you the best sound no matter what genre of music you are listening to.
What are IEMs?
IEM stands for In-Ear monitors. These are specific earphones most frequently used by professional musicians, DJs, and audiophiles because of their immaculate audio quality. Their initial purpose was to make it easy for musicians and singers to monitor audio sources in different places. They perfectly fit the ear canal and this provides outstanding noise isolation even in very noisy places like a concert stage or any other venue musicians perform in. 
Are in-ear monitors safe?
Although in-ear headphones deliver outstanding audio experience, if used improperly they can be bad for your ears and cause hearing problems. When we say "used improperly†we mean that they can deliver a sound of 130dB and everything above 85dB can result in hearing damage. 
Additionally, prolonged use of IEMs can result in higher bacteria production in the ears, so it's important to let your ears breathe after some time. This will also prevent ear fatigue.
Are in-ear monitors good for listening to music?
Yes, they are. IEMs don't sound like regular (consumer) headphones because they are designed to deliver detailed and accurate audio. They are not meant to enhance the audio and make it more pleasing to the ear, mainly because their initial purpose is to monitor audio recording and everything has to be heard exactly as it sounds.
What's the difference between in-ear monitors and earbuds?
Although they are very similar in size, IEMs go into the ear canal and practically seal the ears so no surrounding noise can come inside. On the other hand, earbuds sit on the outer part of the ear and they don't block the surrounding sounds.
Are IEMs better than earbuds?
In terms of sound quality, IEMS are much better than earbuds. On the other hand, if you like to be aware of your surroundings while listening to music, earbuds are a better option since they don't completely block the surrounding sounds. Also, if you are one of those people who can't stand having something in their ear canal, earbuds are a better choice.
Are IEMs noise canceling?
When it comes to IEMs, we would rather use the term "noise isolation†than "noise cancellationâ€. They go into the ear canal and their silicone or foam tip will provide quite decent noise isolation. Also, if you are using custom-molded EMs will block the surrounding noise much better and they will be much more comfortable at the same time. 
Final Words
When we take into consideration the high-quality sound they provide, how portable and increased comfort we can highly recommend IEMS as a way to greatly improve your listening experience. 
The market today is flooded with IEMs of different colors, designs, and prices but we are sure that the ones we have selected deserve to be on our "best IEMs under $100†list.
My favorite IEM on this list is the Shure SE215 and they are the best in this price range and give the most value for the investment.