(Last Updated On: September 9, 2020)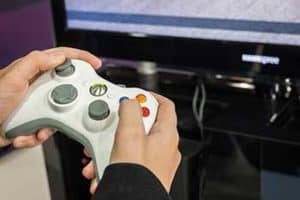 Let's be honest, playing games is a great pleasure. It has its drawbacks, it's healthier to go outside, breathe fresh air and keep in touch with the nature, but the experience of playing games can be unrepeatable. Especially if you play games using a top-level console like the Xbox One. Only people who didn't try can criticize.
However, what gives you immense satisfaction doesn't mean that everyone around you, who don't play games, would enjoy all the sounds of shooting, twisting and breaking. Thanks to the innovation of people who share your passion when talking about playing games, in today`s market, you can purchase superb earbuds for the Xbox One.
These earbuds will not only solve the problem for those who don't want to listen to the sounds that come from your Xbox One, but will also give you a unique and unforgettable gaming experience.
Most of these earbuds are specially designed for most demanding users especially when it comes to the sound quality, lightweight and ergonomic design. We'll help you make the right choice.
---
---
Things to consider when buying earbuds for Xbox One
When playing games, besides the very important visual effect, a very important element is the sound. The sound is the crucial thing that contributes excitement you feel when playing your favorite game. The sound is something that puts you fully into the virtual world of the game and that allows you to run your adrenaline, although it's just a game.
To fully customize your earbuds for Xbox to your needs, it's important to pay attention to a few important things.
This is basically a classic story. Some are small, the others are slightly larger, some are made of very soft materials and some aren't. You have those that come with a long cable, and you have those that come with short cables, there are also wireless earbuds. You have earbuds with better sound quality, with a stronger bass, with very good lows, mid or highs and those with lower quality.
We will help you make the right choice by presenting the best earbuds for Xbox One in our opinion. We will describe everything that is important to make the right choice for you.
Using Earbuds for Xbox One
PROS

&

CONS
PROS
Lightweight
You can choose between those that have ear hook and those that don't have ear hook
You have models with and without a microphone
A huge choice when talking about design and comfort
Variety of colors
Ultimate gaming experience
CONS
Some are good, some are great, it's hard to satisfy everyone with every model
---
Best earbuds for Xbox One
---
Why did we choose this product?
This is a well-known manufacturer of audio equipment whose products are of superior quality and with which there is no flaw. It's enough to say SONY.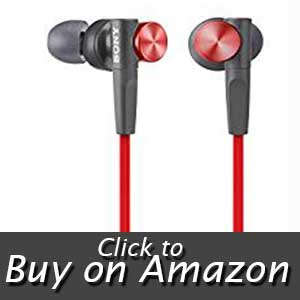 You can buy these earbuds in three different colors: red, black and blue. They use a cable to connect to the device. The sound is great, especially bass. They have an integrated microphone, they are very comfortable. Earbuds are made of a very soft silicone that perfectly fits in your ear. SONY is famous for its superior sound many users have tested and confirmed that, so these earbuds don't differ in that sense, they are really great. They are very lightweight so you can play games for hours without noticing that you are wearing them.
What's included?
One Sony MDRXB50AP/R earbuds – comes in the box
Replaceable eartips – 4 different sizes
A cloth carrying pouch
Cord adjuster
Warranty card
User manual
Overview of the features
Driver unit: 0.47 in (12 mm) DOME TYPE (CCAW)
Magnet: Neodymium
Capacity: 100 mW
Frequency response: 4-24000 Hz
Impedance: 40Ohm (1 kHz)
Sensitivity: 106 dB/mW, 110 db/mW
Cord length: 3.94 ft (1.2 m)
Plug: 4-conductor gold-plated L-shaped stereo mini jack
Weight: 2.4 ounces (68.04 g)
Dimensions: 2.6 x 1.5 x 6.8 inches (6.6 x 3.81 x 17.3 cm)
The quality of production is top-notch. Much more than average. The materials are great, very sturdy and finishing line is great. A lot of attention is paid to the details and this is clearly seen. They are very lightweight. They use a gold-plated conductor L-type stereo mini plug. The cord is a Y-type cable, quite long, about 1.2 m (47 inches). The cable is of very high quality and very resistant. You have the Remote Control Multi-function button and microphone on the cable itself in a very small housing.
What is worth mentioning is that all of this, more or less, is standard. What is good is that the microphone is at a decent distance from the mouth so it makes it pick up your voice really nicely, yet it was designed by a team of experts in Sony.
As far as sound is concerned, the bass is particularly distinguished. There is a special punch of the bass and it's quite amazing. Speakers have only 12 mm drivers, but are very strong. The reason lies in the fact that this is the most powerful type of units – the dome high energy neodymium drivers. They are very loud without distorting the sound.
The tips that come with earbuds are a special hybrid design so they increase their elasticity and make them fit perfectly in your ear canals. They are also very good at passive noise isolation which gives you the ability to focus. You can cut off the environment and get in the zone, which is especially important when playing games.
What others say?
People who have tried these earbuds for the Xbox One, and among them are professionals, are very satisfied. This model really offers a lot and isn't expensive for what it offers. The bass is very punchy, lows are incredible, highs are really clear. It has great microphone. They're comfortable. They are a bit bigger, but it's necessary to place such a powerful bass somewhere. They don't fall out, your ears don't hurt after long hours of playing. Some people have complained that you can't adjust the volume on them, but you have to set them up via the device to which you connect but once you do it nothing else can bother you.
PROS
Very loud
Superb bass
Great microphone
Excellent cable quality
Very comfortable
CONS
Volume can't be adjusted directly from the earbuds
A bit bigger
Conclusion
We are very pleased with everything that these earbuds for Xbox One showed us. Basically, in all the elements these earbuds have overcome our expectations. A really great recommendation.
---
Why did we choose this product?
They look very attractive, they are very affordable. They have a bunch of add-ons and setup options.
These earbuds model for Xbox One can be purchased in two different colors: multicolored and black. They are very stylish. They are especially popular with young people. The ear hook design makes it easy to fit your ears. They aren't loose and don't fall out. They are resistant to sweat. They have decent sound and bass quality. They have one year quality warranty.
They have a multi-functional remote control unit with 3 buttons with which it's operated. All the options are placed there microphone, playing music, answering calls, switching from song to song, rejecting calls, etc.
They are lightweight, the sound is quite good, clean treble, stereo, deep bass, very comfortable, metal housing.
What's included?
One Vivreal Stereo Earbuds – comes in the box
Silicone eartips: 3 sizes (S/M/L)
Overview of the features
Plug: gold plated 3.5 mm jack
Weight: 0.8 ounces (22.7 g)
Dimensions: 4.7 x 0.4 x 3.5 inches (11.94 x 1.02 x 8.9 cm)
Built in microphone
Compatible with: Tablets, Apple Devices, MP3 player, Android, Laptop, Smartphone
What others say?
What everyone who tried these earbuds for Xbox One point out is that they fit very well in the ears. You have 3 sizes for adjusting so that they can fit everyone. They are very comfortable you don't have that weird feeling of pressure and pain after using them for hours. Some people complained about the microphone, other people on the other side had some issues regarding hearing. These are rare cases, but they are worth mentioning. Of course if something like this happens simply contact customer service and replace them.
PROS
Good sound
Lightweight
Adjustable silicone rubber eartips (S/M/L)
Metal housing
Compatible with majority of devices
Conclusion
It all depends on your expectations, but if you consider the price range, then these are very good, even great earbuds for the Xbox One. They have everything you need, everything works very well, but it's not state of the art. Materials are quite good, but not top quality. You should certainly take this model into consideration.
---
Why did we choose this product?
This model has very attractive design. They look futuristic, many gamers like this kind of look.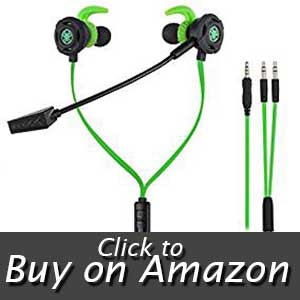 You can buy them in three different colors: black, black-green and black-red. They are very comfortable and lightweight, they are compatible with most devices. They have an ear hook that keeps them firmly in the ear. They have an excellent noise reduction, the sound of very high quality, especially the bass. A very long cable which is over 7 feet (over 2 m). They come with 3 pairs of silicone earbuds (large/medium/small).
What's included?
One BlueFire 3.5 mm wired earbuds
Ear-tips: 3 sizes (small/medium/large)
Audio extension line: 3.5 mm
Audio computer patch cord
Storage bag
User manual
Overview of the features
Three colors: black, black-green and red-black
Cable length: Over 7 feet (around 2.2 m)
Plug: 3.5 mm jack
Frequency response range: 20 Hz – 20KHz
Noise reduction
What others say?
People say that surround sound is really great. The sound is clean and crisp pretty awesome.  The volume control is right in reach. They are very comfortable great for hours of use. The materials are very durable. They say customer service is incredible, so if you have any problems you can contact them. Some complained that they were a bit heavy.
PROS
Attractive design
Good sound quality
Durable materials
Volume is adjustable
CONS
They have a little more weight than average earbuds
Conclusion
An interesting model, attractive design, a lot of accessories, the carrying case is very beautiful, everything works properly, and the sound is really good. You can't expect to be top-notch in all elements, but when you consider everything, a very good model that we strongly recommend.
---
Why did we choose this product?
In addition to a nice ergonomic shape, this earbuds model also has dual drivers which keep much better sound than average earbuds.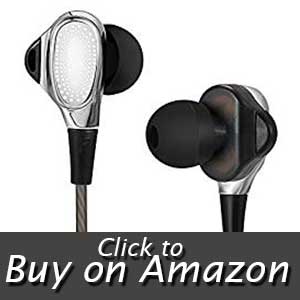 As we said, ergonomics is very good, they work naturally, perfectly fit in your ears. The sound is very good thanks to the dual drivers technology. It is smooth and clean. The microphone is quite good, everything is heard very well, there is no distortion, no interference. The bass is very deep, highs and mids are especially pronounced. The materials are excellent, soft silicone doesn't burden your ears. It is compatible with all devices.
What's included?
One Kinwal In Ear earbuds
Carrying case
Overview of the features
Weight: 2.08 ounces (58.97 g)
Dimensions: 6.7 x 4.3 x 1.2 inches (17.02 x 10.92 x 3.05 cm)
Impedance: 16+/- 15% Ohms
Rate power: 4 mW
Driver type: Dual symphonic 7 mm drivers
Input power: maximum 8 mW
Headphone balance (L/R): less or equal 3dB at 1KHz
Sensitivity: 102 dB +/- 3Db/Mw
Plug: 3.5 mm jack
What others say?
The carrying case you get with these earbuds is a very nice detail. Earbuds give a very good sound, surprisingly good. This is due to the dual driver design, it definitely makes a difference in the sound quality. They are equally well no matter you listen to music or play games or even talk. There are no special objections to this model. Only if you get them with a defect in the beginning, everything else works perfectly.
PROS
[mk
s_icon icon="fa-thumbs-o-up" color="#81d742″ type="fa"] Dual driver: 7 mm
Ergonomic design
Very comfortable
Excellent sound quality
Universal compatibility
CONS
You can't adjust volume from the cord multi-function control unit
Conclusion
They will not blow your mind but it's really difficult for this model to find a special blunder. Everything is very well composed, everything works very nicely, there is room for improvement, but, all in all, a very well-made earbuds for Xbox One. Especially if you take the price into account.
---
Why did we choose this product?
These are genuine gaming earbuds, ideal for the Xbox One. The sound is phenomenal.
You can buy them in two different colors: blue and black. They are very well-made, very durable. The sound is of superior quality, thanks to two 9 mm high fidelity drivers. Everything is well balanced bass, treble and mids. They are specially designed for gamers and for people who enjoy premium sound, regardless the music type. They have replaceable back caps. The cable is made of high quality materials, excellent quality indeed.
What's included?
One Sentey LS 4215 Oryon earbuds
Eartips ( S/M/L) – 2 sets
Carrying case
Back caps: 3 different
User manual
Overview of the features
Sensitivity: 94 +/- 3 dB
Driver diameter: 9 mm
Frequency response: 10 Hz – 20 KHz
Microphone sensitivity: 42 +/- 5 dB @ 1 KHz
Connector plug: 3.5 mm
Cable type: Very flexible
Cable length: 120 +/- 5 cm
Earpads: 3 sizes S/M/L
Weight: 0.8 ounces (22.68 g)
Dimensions: 5 x 4.5 x 1.4 inches (12.7 x 11.43 x 3.56 cm)
What others say?
Depending on the type of music you are listening to, you get a set of end caps: black, silver and gray. They improve sound quality and are a very nice detail. The sound is great, really these 9 mm drivers are great they do their job perfectly. Quality is excellent. The design of the cable is such that you will not have any problems with the use, really very durable and high-quality cable. It easily connects to any device that uses a 3.5 mm jack.
Some complained that it sometimes happens that the control button reacts with delay, others mentioned that they are too large and heavy
PROS
Very durable
Comfortable
Lightweight
Great sound quality
CONS
They are a little bigger
Conclusion
If you use them normally, they will serve you for a very long time. Initially they are made to last. Still, they aren't indestructible. The sound is amazing what is confirmed by thousands of users. The capability of back caps is an interesting and useful detail because it greatly improves the sound quality. You just need to put the appropriate back cap. In one word, we like it a lot and we recommend it with pleasure.
---
Why did we choose this product?
They have a simple but functional design. They are not particularly stylish but work very well and the sound quality is more than satisfying.
You can buy them in two variants: V1S with microphone and V1S classic. They are made of quality-materials, have a simple design, but they're pretty cool.
There is no superfluous detail in this model. Everything is well-balanced. You have everything you need and everything works very well. The sound is of high quality thanks to drivers that are dual neodymium. They are made for music lovers so they are very good. They are comfortable, not very heavy, well fit in the ears.
What's included?
One GranVela VJJB V1 earbuds
Memory foam tips – 1 pair
Silicone gel ear tip: 3 pairs (S/M/L)
Carrying case
12 months warranty
Overview of the features
Resistance: 8 ohms
Frequency response range: 20 – 24000 Hz
Sensitivity: 110 dB
Drivers: Two 6 mm dynamic drivers
Distortion: less than 1%
Maximum power: 20 mW
Channel balance: 2dB
Plug: 3.5 mm gold plated
Weight: 4 ounces (113.4 g)
Dimensions: 3.8 x 3.8 x 1.9 inches (9.7 x 9.7 x 4.83 cm)
What others say?
Faux carbon hard carrying case that comes with earbuds is phenomenal. Also, the microfiber soft pouch talks about luxury although it's simply designed it looks classy. The vertical positioning of the speakers really gives you a very high quality of sound. They are noise cancelling for sure. Some users have complained about cable quality that is not particularly durable.
PROS
Very affordable
Good noise isolation
Sturdy built quality
Simple but nice design
Good sound
Mids are clean
Treble is balanced
Conclusion
This model has many details for this price range. The bass isn't superb, it has some flaws, but it's decent. The sound is generally very good. The quality of production is also decent, the cable is rubberized, it's not particularly resistant but it's OK.
They have everything you need and they aren't expensive. They work very well, have nice accessories so they are also good as a gift.
All in all, an excellent pair of earbuds that will serve you nicely.
---
Why did we choose this product?
Good sound and design, plenty of accessories that come with them.
They have a very attractive design, for real gamers. You can buy them in three colors: red, black and green. All colors are rather attractive. With them, you get an extension cord, which is very convenient. The total cable length reaches 2.2 m. You can use them on most devices. They are compatible with all devices using the 3.5 mm jack. The microphone is very good, thanks to the 360-degree sound technology.
The sound is very good too, noise isolating works well too. You can tailor them to the size of your ears as you get headphone accessories in 3 dimensions (silicone earbuds).
What's included?
One Wired Gaming Earphone
Extension cord
Bullet silica gel muff in 3 dimensions (S/M/L)
Audio patch cord for computer
Storage bag for earphone
Wire clip
Overview of the features
Weight: 3.2 ounces (90.72 g)
Dimensions: 4.4 x 3.3 x 1.7 inches (11.2 x 8.4 x 4.32 cm)
Noise cancelling microphone: 110 mm length
Sensitivity of the microphone: -45 dB
Total length of cables: 2.2 m
What other reviewers say?
Those who have tested these earbuds headphones are very satisfied. Especially those younger hard core gamers, due to their attractive design. The sound is very good, not spectacular, it will not blow you away, but very decent sound, good bass. They come with a nice zipper carrying case with a clip which is or for traveling to hook it on a purse or backpack. It`s very nice as a present too.
Everything works well, they can fit everybody's ears as you get add-ons that you can adjust, inner loop and silicone earbuds in 3 dimensions. Some say they are slightly bulky for earbuds headphones, due to design, there are no special complaints about sound quality. The sound is pretty good. Some have complained about cable quality.
PROS
Good sound
Attractive design
Nice case
Long cable
3 pairs of earbuds (S/M/L) comfortable for long wear
Good microphone
CONS
Cable is little bit heavy
Conclusion
If we take into account all the elements for comparison with other models, then these are one very good earbuds headphones for Xbox One. Don't expect a miracle in this price range, but you will be very satisfied. The cable is quite long, the sound is very good, the microphone works great and is heard clearly. There is no problem with distortion and no static. They have very nice design and colors. Everything is worth considering this model when purchasing earbuds headphones.
---
Earbuds for Xbox One FAQ
Will any earbuds work on Xbox One?
This is pretty standardized today. Most manufacturers are trying to meet the needs of their customers. So, as far as these earbuds are concerned, all the models that we have presented to you are compatible with the Xbox One. They mostly use a 3.5 mm jack that fits the Xbox One. In order not to make a mistake, it's best to check the specification when buying earbuds and to get thoroughly informed about all capabilities of the product to satisfy your needs.
Can I use my iPhone earbuds for Xbox One?
You need to check the connector if there is a 3.5 mm jack then the answer is yes, you can use the iPhone earbuds for Xbox One.
Do I need a special adapter to connect my earbuds?
The Xbox One uses a 3.5 mm port, so if you have earbuds using a 3.5 mm jack, then you don't need any adapter, you simply connect them directly.
Can I disable game sound and use just mic and to hear the others?
Yes you can, you only need to adjust between game/chat sounds. You simply adjust the potentiometer all the way to one side to choose the option.
---
Final Words
When we take into consideration the material quality, the sound quality, the effect obtained by using the earbuds for Xbox One, the only conclusion is that earbuds are very useful and improve the gaming experience.
There is a wide range of these earbuds on the market, but these 7 are the ones that we have set out to be the best in our opinion.
We especially liked the Sony MDRXB50AP/R model. We think it's the best in this class and it offers the most.