If you are a music fan and want to listen to digital music on the go, then the Bluetooth speaker should be your preferred choice as this will easily link to your mobile phone and stream music for you. However, sometimes the battery of our primary audio source i.e. our smartphone will be empty, but it doesn't mean we should stop listening to music. This is where the FM radio option comes in place.
This article will present the five based on our criteria and we hope that this review will help you in making the right choice to buy the best Bluetooth speaker with FM radio. So, let's begin!
Table of Contents
Best Bluetooth Speaker with FM Radio – TOP 5
---
– Our Favorite –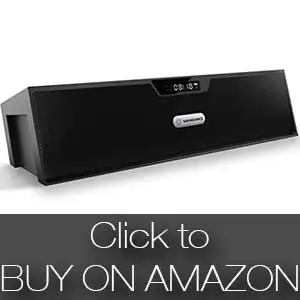 One of the features we liked the most in the Soundance portable speaker is the built-in alarm clock. Although it makes it perfect to keep it by the bed, thanks to the pretty good Bluetooth range it can be used as any other portable speaker – indoors and outdoors.
Thanks to its small weight this speaker is definitely super-portable. The shape is pretty interesting and it can easily fit into your hand. When it comes to ease of use this speaker is pretty simple and straightforward, but for some people setting the alarm clock can be pretty tricky so make sure to have the manual by hand.
The battery life is pretty good – eight hours of continuous play when fully charged. Pairing with other devices works flawlessly and in a matter of seconds. Besides Bluetooth you can easily connect it with other devices using the aux cord, the USB port, as well as the SD card port.
Pros
Push buttons very conveniently located at the top for different functions makes it easy to use at low light.
Auto search functions of FM that automatically saves the FM stations.
On a single charge it gives 8 hours of playtime.
Cons
The micro SD card when inserted is not flushed with the surface as it juts out.
---
– IPX6 Water-resistance rating –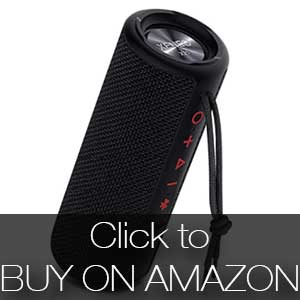 The Xeneo X21 Wireless Bluetooth Speaker is sure to become your favorite companion. You can get it in three color versions; Black, pink and blue. The function buttons on this cylindrical-shaped Bluetooth speaker are very well positioned on one side of the speaker allowing you to use it easily. The color of the function buttons matches the primary color of the pink and blue model. However, the black model has red function buttons that look great and make the operation even easier.
This speaker is well protected from sudden drops thanks to the rubber bumpers and durable mesh fabric. There is also a hard case to protect the speaker when you need to store it. The speaker also carries the IPX6 water resistance rating which means you can enjoy your music by the swimming pool, at the beach or shower.
The Xeneo X21 is compatible with all Bluetooth devices so you won't have problems pairing it with your Bluetooth audio devices. Besides the FM radio capability, you can easily stream music from your devices wirelessly or connect it to your device using an AUX jack. Another way to play your music is using a microSD card.
When it comes to audio quality the sound is crisp and clear thanks to the digital signal processor and the 15W power drivers. The sound quality is also enhanced by the cylindrical design of this portable speaker which greatly improves the sound projection.
Connecting two Xeneo X21 speakers is pretty easy thanks to the dual wireless pairing. It is an excellent feature for parties or achieving surround sound quality while watching movies at home.
One of the things we didn't like with this speaker is the pretty weak battery. It says that it will last for 10 hours but in reality, this time is shorter depending on the volume you are using the most. Even with the minimal volume on this speaker won't last for 10 hours.
At the end, you get a powerful and durable portable speaker which is ideal for outdoor activities and covered with one-year warranty and lifetime technical support.
Pros
Awesome design and several color variations to choose from
Compatible with most Bluetooth devices
IPX6 rated
Dual wireless pairing
Cons
The battery lasts shorter than advertised
---
– Sony Bluetooth Speaker with FM Radio –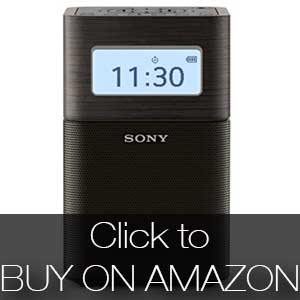 From the house of SONY, the market leaders in the Audio Visual products industry, comes this little Bluetooth speaker which will amaze you with its extended playtime of 32 hours on a single charge.
The dual 2.45mm full range speakers surprisingly deliver good level of stereo sound output, which is expected as it comes from SONY.
Music lovers world over often listen to music even at bedtime, so no wonder SONY have come up with a smart idea of a built in alarm, just set your preferred time of waking up and relax, so the next time you fall asleep while listening to your favorite music you have the assurance of being woken up with this beauty.
This cube speaker features all the push buttons on the top of the speaker.
The NFC feature of this Bluetooth speaker helps you to quickly stream your favorite music from your smart phone just by touching your Smartphone to the speaker.
This Bluetooth speaker features an Antenna that can be pulled out and extended in any direction to pick up optimum FM radio signals.
Read more: Sony WH-1000xm3 Not Turning On: How To Fix It
Features:
The Built-in Lithium-ion battery plays up to 32 hours of continuous music on a full charge.
Built-in FM/AM digital Digital Radio Tuner with 5 radio presets to store your favorite radio station
One Touch easy connectivity of Bluetooth and NFC.
Built-in Alarm clock
Large LCD display.
Pull out the antenna for Radio signal reception
Headphones/Line in provision.
Battery powered operation, battery charges with AC power.
Pros
NFC functionality is very good; just touch your iPhone/Android device to the speaker.
Large LCD display for Radio stations, time and alarm clock.
Cons
No support for SD Card.
No USB slot.
Too highly priced.
---
– Best value For Money –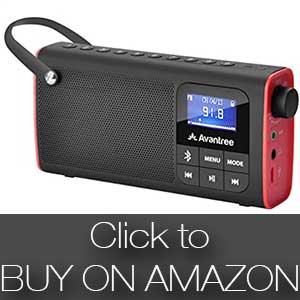 Avantree is a very popular brand in the Bluetooth devices market especially speakers and headphones.
The Avantree SP850 is a feature-packed and pretty compact and affordable portable Bluetooth speaker worth taking into consideration. They market it as a 3-in-1 radio speaker, which also supports wireless audio streaming from your devices.
As for non-wireless options you will love the possibility to load your microSD card with music or connect it to another device through the AUX port. On top of everything the FM radio is working perfectly fine.
The design of the Avantree SP850 can be described as sleek and modern. This is especially highlighted with the primary black color coming with a little red on the sides. The built-in strap will allow you to carry it easily and hook it where needed.
The Avantree SP850 comes with a large LCD screen that will provide insight into all the information you may need at the moment – from current track, radio channel to battery status and more. We really liked the knob that makes the volume control easy and precise.
One of the key features of this excellent portable speaker is the simplicity of FM searching. The speaker can scan and save the radio stations automatically. The numerical buttons are there to help you memorize your favorite channel. When it comes to FM radio, we feel that things would be better if there was an antenna.
The sound quality is pretty good too and the same applies for the power of the speaker which will do its job just right indoors and outdoors.
There are user reports where the speaker will turn off on its own although it is fully charged, but this is something that doesn't happen frequently.
Pros
Beautiful and compact design
FM radio auto-search feature
Large LCD screen
Cons
FM sound could be better
Switches off on its own from time to time
---
– Stylish and durable –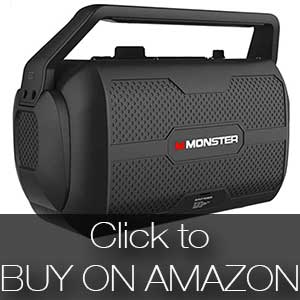 If you are looking for a stylish portable Bluetooth speaker with FM radio the Monster Nomad is something definitely worth checking out. At first sight you can be sure that this speaker was built for heavy-duty usage. The design is very much similar to the boom box and makes it perfect for all your outdoor activities and camping trips. It is made from durable and strong materials which doesn't affect the sound quality even at high volumes.
The Monster Nomad can also be used indoors and it will do its job pretty well in any situation. Some people don't like its size but it comes with a carry handle that makes it easy to move the speaker here and there. The size of the speaker and the weight of 6.4 pounds definitely won't allow you to carry it in your purse but if weight and size are not too much of a trouble for you, we highly recommend this portable Bluetooth speaker.
The battery life is pretty decent and guarantees to work for up to 30 hours on a single charge. The sound quality of the Monster Nomad speaker is pretty good and is accompanied with an excellent bass. Everything said this speaker will offer an excellent well-balanced sound.
The Monster Nomad is on this list because of the additional features it has besides the FM radio which works great. We love that it comes with a 3.5 mm AUX input which is a real lifesaver when there is no Bluetooth audio device, a guitar input, an USB port that can be used as a charger and to connect other devices and a microphone.
Pros
Five color variations to choose from
Made from durable materials
IPX4 water-resistant
It has a mic or guitar input jack
30W speakers
30 hours of playback time on a single charge
Cons
The AM/FM reception could be better
---
Conclusion
At the end, the decision-making factor when buying the best Bluetooth speaker with FM radio is personal preference and the price. For some people the Bluetooth speaker is just a hands-free device when traveling or at home. For an avid music lover, the sound and tone quality will be the most important factor.
Having that in mind we have reviewed five Bluetooth speakers with different price tags, features, and sound quality.
However, given our preference of choice, we would advise you to go with Soundance Portable Stereo Bluetooth Speaker for the simple reason that it will satisfy almost everyone whether you are looking for sound quality, extra features, portability, durability, finishing.
To wrap up, if you are looking for the Best Bluetooth Speaker with FM Radio then Soundance Portable Stereo Bluetooth Speakers is a good choice. Of course, you can't go wrong with any of the speakers we have recommended above. It all comes down to your personal preference and he available budget.