(Last Updated On: July 7, 2020)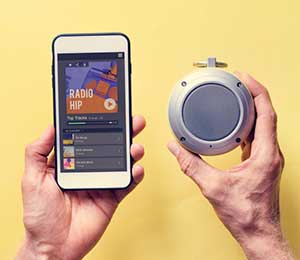 Ever envied your neighbor or friend who is listening to your favorite music on his portable sound system?
Well, they may be using the latest in Hi-Fi technology which is called Bluetooth. Before you decide on simply buying one to match up with your friend or neighbor, you need to understand the basics of Bluetooth Technology.
This technology was started in the year 1994 by the then famous leaders in wireless transmission Ericsson, a Swedish company who were also industry leaders in the manufacture of mobile phones.
This technology works on Bluetooth radio and is built into a tiny microprocessor chip that uses the medium of radio waves and is used to transmit data over short distances using unlicensed bandwidth in the range of 2.400 to 2.485 GHz.
This technology has become so useful in a short span of time that practically every electronic device is using the Bluetooth technology, you name it and you will find it present in smart TV's, microwaves, all types of computers, music systems, it's use is so vast that even the car manufacturers have jumped into the race to incorporate this technology in the cars.
As a consumer now the vital question to ask is why do I need a Bluetooth wireless speaker?
If you are a music fan and want to listen to digital music on the go, then the Bluetooth speaker should be your preferred choice as this will easily link to your mobile phone and stream music for you.
Bluetooth speakers come in various types, sizes, colors, and brands in the market. Starting from as low as $2 to anywhere in excess of $1000
We shall review 5 brands of Bluetooth speakers with FM radio and their features. We hope that this review will help you in making the right choice to buy a good Bluetooth speaker.
---
– Best Bluetooth Speaker with FM Radio at Walmart & Amazon –

You can get this Bluetooth speaker in 5 different colors. This Bluetooth speaker has 3 in 1 functions. It uses the latest in Bluetooth technology v3.0 which makes connectivity a breeze with this product. It has a maximum permissible distance from the source of 35 feet.
Features:
A full recharge of the battery provides you with 8 hours of music.
The provision of micro SD card at the rear allows you to play music in 5 different formats MP3, Free Lossless Audio Codec(FLAC), monkey audio (APE), WAV, WMA.
5 push buttons on the top for easy functions of Play/Pause, Forward, Rewind, Alarm, FM Radio, and Bluetooth.
On the rear of the product, you can use the 3.5 mm cable provided for connecting your mobile or laptop in the line in jack. The TF with micro SD Card image is to insert your micro SD card or TF Card with music for direct streaming. The On/Off buttons slide to turn on or off the Bluetooth speaker. The DC 5volts connector for charging from a battery source. The USB connector to charge the device with the USB provided cable or you can alternatively use the USB cable to play songs from your laptop/pc.
The Built-in microphone can be used for the hands-free function of receiving calls.
Two 40mm speakers deliver clear and rich bass sounds with Bass Enhance Technology and Bass Resonator.
Supports plug and play of iPhone, iPad, and Android devices.
PROS
Push buttons very conveniently located at the top for different functions makes it easy to use at low light.
Auto search functions of FM that automatically saves the FM stations.
New Bluetooth technology that enables to connect at 35 feet distance.
On a single charge it gives 8 hours of playtime.
CONS
The micro SD card when inserted is not flushed with the surface as it juts out.
---
– Best Bluetooth Speaker under $75 –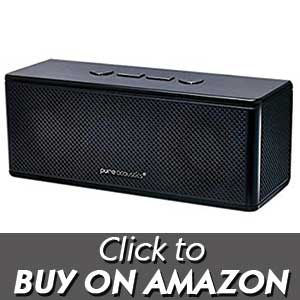 A small yet powerful speaker with rugged looks, this portable speaker delivers good sound. The Bluetooth A2DP built in technology helps for easy pairing of Bluetooth compatible devices such as Smartphones, Laptops, iPads and iPhones.
Features:
4 multi function raised buttons on the top of the speaker for mode selections, music control functions such as play, pause, and stop, play next and play last song.
Easy control ON/OFF switch located at the back of the speaker.
2 front facing 3 watts speaker deliver sound loud and clear to fill a living room.
On the Reverse side of this Bluetooth speaker, you have the Aux port or line in through which you can connect the 3.5mm cable which comes included in the package.
Above the Aux port, there is a provision for a 32 GB music data SD Card.
For charging you have 2 options one is through the micro USB port of DC 5 Volts, the USB cable is included in the package. A single charge provides 8hours of play.
Built in Microphones to pair with your Smartphone for hands free functions.
Weighs 8 ounces
PROS
Built in A2DP Bluetooth technology for easy pairing of devices.
Plays different audio formats of APE/FLAC/WMA/MP3
8 hours of continuous play on a single full charge
Good Bass sound.
CONS
Midrange and vocal sounds are on the average quality not great.
No NFC connectivity.
---
– FM Radio with Bluetooth Output –

The iFox is a great portable speaker that is round, designed perfectly well to sit in the cup holder of your car. It has an upward facing speaker delivers good sound quality for your listening pleasure while you drive, rightly touted as the Travel Speaker. This speaker makes an ideal gift due to its size, shape, and packaging weighing only 9.6 ounces
Features
The strap and the charger cable that comes included in the package double up as an antenna for reception of FM radio signals.
There are 4 multi-functions raised buttons on the bottom of the speaker.
Beginning from your left is the volume down and previous select button.
Next is the button to answer your phone in hands-free mode, Play and pause your music.
The Third button is to turn up the volume and play the next song.
The 4th button you can toggle between different modes of selection viz: Bluetooth, Micro SD card, FM Radio, and Aux mode or line in mode.
This Bluetooth speaker comes with a built-in lithium-ion rechargeable battery that plays uninterrupted music for 6 hours on a full charge.
The built-in FM receiver can scan and store all the FM stations with a single press of the button.
The built-in Microphones help when using the speaker in handsfree mode.
PROS
10 hours of continuous play on a full charge of 650 mAH lithium-ion battery
The output of 3 Watts
Bluetooth version 3
Operates at a distance of 35 feet
1-year warranty
CONS
Does not play all music formats other than MP3.

---
– Sony Bluetooth Speakers with FM Radio –

From the house of SONY the market leaders in Audio Visual products comes this little Bluetooth speaker which boasts of an extended playtime 32 hours on a single charge.
The dual 2.45mm full range speakers surprisingly deliver good level of stereo sound output, which is expected as it comes from SONY.
Music lovers world over often listen to music even at bedtime, no wonder SONY have come up with a smart idea of a built in alarm, just set your preferred time of waking up and relax, so the next time you fall asleep while listening to your favorite music you have the assurance of being woken up with this beauty.
This cube speaker features all the push buttons on the top of the speaker.
The NFC feature of this Bluetooth speaker helps you to quickly stream your favorite music from your smart phone just by touching your Smartphone to the speaker.
This Bluetooth speaker features an Antenna that can be pulled out and extended in any direction to pick up optimum FM radio signals.
Features:
The Built-in Lithium-ion battery plays up to 32 hours of continuous music on a full charge.
Built-in FM/AM digital Digital Radio Tuner with 5 radio presets to store your favorite radio station
One Touch easy connectivity of Bluetooth and NFC.
Built-in Alarm clock
Large LCD display.
Pull out the antenna for Radio signal reception
Headphones/Line in provision.
Battery powered operation, battery charges with AC power.
PROS
NFC functionality is very good; just touch your iPhone/Android device to the speaker.
Large LCD display for Radio stations, time and alarm clock.

CONS
No provision for SD Card.
No USB slot.
Too highly priced.

---
– Best Bluetooth Speaker with FM Radio –

If you ever wanted an all metal, sleek and great value speaker then this Bluetooth speaker should appeal to you. This Bluetooth speaker not only looks good but also delivers a good sound quality with rich bass and trebles to fill your living room or your car. The speakers in this device are very cleverly designed to produce a 360 degree sound effect, thinking of a party at home, this speaker would do justice. The Bluetooth speaker looks identical to the smartphones in the market today.
4 inputs at the back of the speaker are for DC 5 volts micro USB charging, USB port to connect to your computer laptop, Micro SD card to play your favorite songs, and a headphone line out.
You can play up to 12 hours of music on a full charge.
You get an option to choose from three colors i.e. Gold, Black and Silver.
Features:
Built-in FM Radio with a signal amplifier.
Speakers deliver a 360 degree sound effect.
LED display of functions.
Built-in mic for handsfree mode when connected to your iPhone/Android device.
Operates from a distance of 10 meters or 33 feet.
12 hours of music on a full charge.
PROS
3 watts speaker deliver Great Sound.
Sleek finish, metal body.
Rechargeable lithium-ion battery 2200mAh support 12 hours of music on a full charge.

CONS
NFC connectivity missing.

---
Conclusion:
The choice of a Bluetooth speaker varies from person to person. The price tag will be the most determining factor in the majority of the buying decisions. For some, the Bluetooth speaker will serve only as a hands-free device when traveling or at home. For an avid music lover, the sound and tone quality will be the most important factor.
Therefore we have reviewed 5 Bluetooth speakers with different price tags, features, and sound quality. Some of them have a lot of features but the sound quality will not be that great, but as mentioned earlier the priorities vary from person to person.
However, given our preference of choice, we would advise you to go with Antimi Bluetooth Speaker for the simple reason that it will satisfy almost everyone whether you are looking for sound quality, feature, portability, durability, finishing.
What we like most in this speaker and we are sure that many of the users would vouch for it, is the 360 degrees sound which immerses the listener. The 3 watts speakers are well designed to deliver rich bass and treble notes. This speaker is your ideal partner for a night out with your friends or a kitty party at home.
While this speaker pairs like a breeze with the Bluetooth connectivity, we sorely miss the NFC connectivity on this speaker which would be the icing on the cake.
To wrap up, if you are looking for the Best Bluetooth Speaker with FM Radio at Walmart & Amazon then Soundance Portable Stereo Bluetooth Speakers is a good choice. For a Sony Bluetooth Speakers with FM Radio, Sony SRFV1BT is great. For a FM Radio with Bluetooth Output go for iFox iF010 Bluetooth Speaker. And finally for the Best Bluetooth Speaker under $75, check the Pure Acoustics HipBox-mini Speaker.