(Last Updated On: November 18, 2020)
There are several reasons why these portable Bluetooth speakers are very practical and why you should buy them. They are the ideal solution if you need higher quality sound wherever you go. In most cases, they are much better than the built-in speakers with the vast majority of devices.
They don't use cables (but they do have that option because most of these Bluetooth speakers come with a cable – 3.5mm jack), they are wireless. They are also easily connected to devices and don't occupy much space, they are quite resistant, you can buy them in different sizes, colors, materials, etc.
This is the main reason we have created this "Best portable Bluetooth speaker under $50" list, just to make your choice a bit easier.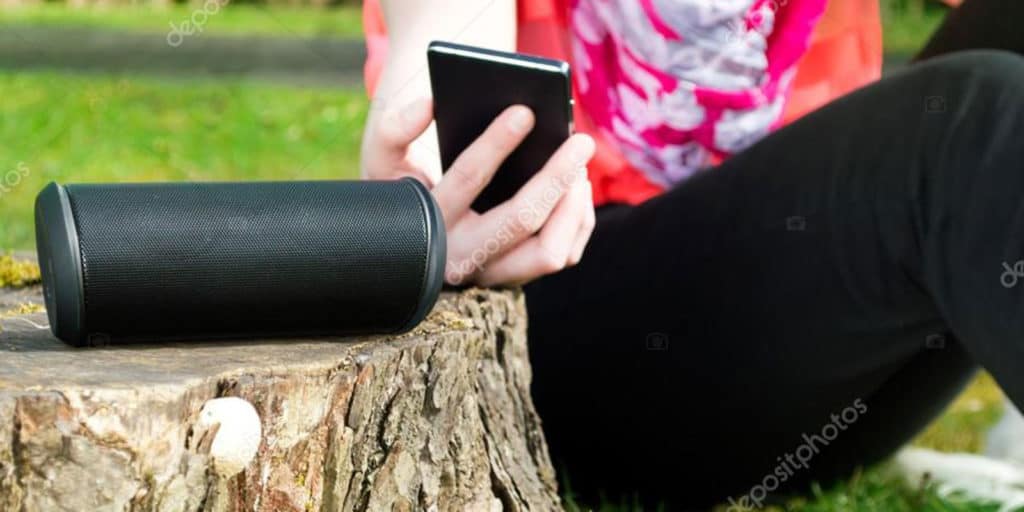 ---
Best Portable Bluetooth Speaker Under $50 – Reviews
---
Why did we choose this product?
High-quality sound, speakerphone, easy touch controls, long battery life, high-quality sound.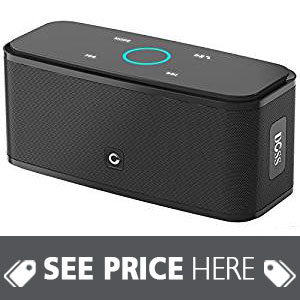 These speakers are produced by the well-known manufacturer DOSS. They use touch technology with latest wireless Bluetooth 4.0. They're portable, the speakers offer HD sound and they uses two 6 watt drivers with 360 degree bass and sound feature. Very low level of distortion, up to 1%.
The battery life is great because even if you pump up the volume up to 75% you can still use it for about 12 hours. Very fast and easy recharging which can be useful when you`re out of battery and you need to use it. You can recharge it quickly and have it ready to use in no time. With the help of a micro USB charger it takes only 4 hours to recharge completely.
The touch controls are located on top of the DOSS speaker. Everything is very easy to handle thanks to the modern touch design. The touch control is extremely sensitive and you can adjust the volume, speakerphone, skip or rewind tracks, etc.
Thanks to the Bluetooth 4.0 technology it's very easy to pair them with any device, even when the distance is 33 feet (10 m).
They have a speakerphone option, so you can use them even for conference calls or to chat with your family, friends and all that in HQ sound.
You can buy them in several colors: blue, red, white and black according to Amazon.
What's included?
One DOSS Touch Wireless Bluetooth speaker that comes in a very nice box
USB micro charger
3.5 mm audio cable
Nice carrying bag
User manual
Overview of the features
Unit net weight: 560 g (1.23 pounds)
Dimensions: 6.6 x 2.7 x 2.9 inch (16.76 x 6.86 x 7.4 cm)
Output power: 2 x 6 W
Battery type: Li-ion 3.7 V, 2200 mAh, rechargeable
Battery life: up to 12 hours
Battery charging time: 3 – 4 hours
Frequency response: 100 Hz – 18 kHz
Input: 5V 1A
Signal to noise ratio: less or equal to 55 dB
Driver unit 1: 2.6 inch (6.6 cm) passive radiator
Driver unit 2: 2x 1.5 inch (3.81 cm) speaker
Effective range: up to 33 feet (10 m)
What other reviewers say?
Quite portable with smooth edges. The whole product is wrapped in a solid aluminum case. It doesn't bend when you press it.
The top and a bottom are a matte finish, simple and classy.
When turned on, the button lights up white and a blue circle appears in the middle. This blue ring is also touch sensitive and it's used for volume adjustment.
On the back, you have four important things. First, you have the on-off button, then the audio cable line in, the micro SD card slot (TF card) and the micro USB charger. When you plug in a micro USB charger, a small light is turned on, just below the charging port .
Very good built quality and design.
The mid range is clear and clean. The high tones are OK. Plenty of sound for a small and mid size room.
Some people complained that they had a problem connecting to some devices at a greater distance.
Pros
Very portable and lightweight
Two 6 W drivers
High-quality sound
Long battery life (on 75 % volume up to 12 hours)
Fast charging with micro USB charger (3 – 4 hours)
Speakerphone function
Bluetooth 4.0 technology
Touch control is modern and easy to use
Cons
Some devices are harder to connect on higher distances
Conclusion
Compared to competitive products of this type, the DOSS Wireless Bluetooth Portable Speaker is great. It has great sound, the bass is pretty good, though not perfect. It's beautifully designed, made of durable materials. You can choose from 4 colors. High definition sound with very good bass performance guarantees and you will fall in love with them very quickly. The touchscreen brightness is great, some might even say it's too strong.
Everything said, we really like it.
---
Why did we choose this product?
This model has a very attractive design. It's waterproof, with a very strong 20W sound.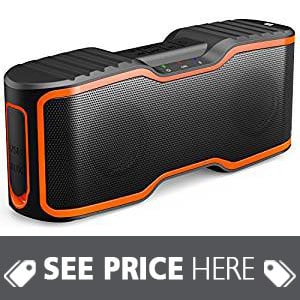 The first thing we noticed is that this Bluetooth speaker model is waterproof and uses the IPX7 standard. This means that it's not only resistant to light rain or water splash, but that it's really resistant to a serious amount of water.
According to the manufacturer, you can immerse it in water for up to 30 minutes at a depth of 1m. Very impressive isn't it!
The sound is precise, the quality is high, too. It uses 20W powerful sound. It has the option of wind reduction and noise reduction and a very clear, almost crystal clear bass that is very well balanced, but not especially strong.
It has a robust design. The other good thing is that it's made of high quality, durable materials. The speakers are covered with a rubberized material that surrounds them. This is a good protection against shocks and scratches. It's made to last long.
The battery is rechargeable and uses a micro USB charger. You can make calls to it because it also has hands free function. It uses Bluetooth 4.0 technology, it's easy to pair with all devices. you can also use a 3.5mm audio jack cable to connect.
What's included?
One Aomais Sport II speaker comes in the very nice box
Swim ring accessory
Audio cable 3.5 mm
Charging cable: Micro USB
User manual
Overview of the features
Battery: 1800 mAh – built-in Li-ion rechargeable
Rated power: 20 Watts
Effective distance: 33 ft (10 m)
Weight: 1.36 pounds (617 g)
Dimensions: 9.3 x 2.4 x 4.6 (23.62 x 6.1 x 11.7 cm)
Output power: 120Hz – 18 KHz
What others say?
They are very well designed. They are coated with a rubberized material that gives special durability and water resistance. It's not just a story, they are really very durable. They have several buttons, more or less standard: switching on and off, sound volume adjustment, hands-free answering, etc.
They are perfectly paired with other devices, very easy and very fast. On the bottom side, you have the ability to fasten it to a stand.
People who tried this model say that they are almost the best in this category regarding the IPX7 waterproof level. This is very good if you plan to use your speakers outdoors, by the pool, river, lake, etc. They are not only waterproof, they are also snowproof, mudproof, sandproof, rainproof, dustproof, shockproof and that's literally. It`s not going to be easy to damage them, even worse destroy them.
Some people complained about the connection and the battery life.
When you turn it on, you hear a very loud voice and you can't reduce the sound of it. The sound quality is good, but the bass isn't particularly strong. Everything is clear but there is no richness of sound.
It's best to test them and return within 12 months of the guarantee period if you have connection and battery problems. The customer support is great, so you shouldn't have problems with this.
Pros
Powerful 20W sound
Decent bass from two full range speakers
Up to 10 hours of playtime
Waterproof – IPX7 rating
Speakerphone function
Shockproof, dustproof, sand proof, waterproof
Bluetooth 4.0 technology
Swim ring (pool accessory) included
Aux cable and micro USB charger included
Cons
The bass isn't very strong
Conclusion
Basically, everything depends on your expectations. If you want full, rich and engaging sound, the AOMAIS Sport II Portable Wireless Bluetooth Speakers 4.0 are the best solution for you. The sound is good, but it will not blow you away with these characteristics. It's very well made, you have a warranty of 12 months. You can carry it with you wherever you want, it's water-resistant and it's very resistant to sand, dust, heat. This isn't just a marketing story. Although these Bluetooth speakers don't have extraordinary performance as far as the quality of the bass is concerned, we are sure that they will serve you for a very long time.
---
Buyer's Guide
How to choose your best portable Bluetooth speaker under 50$?
You have a huge number of different Bluetooth speakers on the market. Choosing the right model isn't easy. The most important thing is to be realistic about your expectations. You need to synchronize the amount of money you are ready to spend and the quality you are expecting to get.
You can't expect a Bluetooth speaker, which is cheap, to offer the same quality and features as expensive Bluetooth speakers.
However, today's manufacturers are working hard to satisfy all the needs of customers, so in this category, you have high-quality Bluetooth speakers that are pretty affordable.
Depending on how you intend to use it, the choice of the right one is on you.
If you intend to use it both inside and out, then you need to look for a model that is more durable. The one that is water-resistant, shock-resistant, dust-resistant, etc.
They are made of different materials. Mostly of high-quality plastic that is often coated with rubber. The design is a special thing. You can choose whatever you like and there is a great variety of models to choose from.
Each and every model meets the basic criteria. But there are those who have better sound, stronger bass, cleaner sounds, etc.
The best option is to tailor it to your needs and of course your lifestyle. That way you will most easily get the ideal model that suits you.
Advantages of using budget Bluetooth speakers under $50
If you don't expect a miracle then each of these Bluetooth speakers will be great for you. They are better than any speaker on any device you connect to. That's for sure. It's hard to believe that the sound on your phone can be better than the sound coming from one of these Bluetooth speakers.
They are portable you can carry them wherever you go.
Really nice little thing which could bring you a ray of enjoyment in life.
Frequently Asked Questions
Which Bluetooth speaker should I buy?
This is a personal question. It depends on you. If you have an active life, if you spend a lot of time outdoors, you should definitely choose a very durable model made of durable materials. It would be good to be water resistant, dust resistant, shock resistant, heat resistant, etc. If you are a quieter type and spend most of your time relaxing in some indoor space then you can look for a model that is very well designed and focused on the sound quality it provides.
What is a good quality sound on cheap Bluetooth speakers?
Not every speaker is the same. some are stronger, some are weaker. Some have a strong bass some have a weak one. Depending on the type of music you listen to, depends on the sound quality you need. It's not imperative that you have a strong bass if you don't listen to music that needs enough of bass. That's the essence.
Are they worth the money?
Definitely yes. Some models you may not like as you expected, but each one will be much better than the ordinary speaker on your device that you already have.
Final Words
Based on the quality of materials from which they were made, sound quality, price and quality ratio, portability, etc. our favorite product in the "Best portable Bluetooth speaker under $50" category is the …. It has everything you need from a Bluetooth portable speaker and it has a lot of charm.
Definitely a winner.