Professional audio quality is essential when listening to a podcast, enjoying music, and watching your favorite movies. You can just experience these in concert halls, theaters, and studios. At this point, you can also experience this right at the comfort of your home with the help of some devices and state-of-the-art features. In case you own a JBL speaker, it might be best to get another one as you can utilize them both all at once to fill your room with amazing audio. Keep on reading to know how to connect two JBL speakers together.
Table of Contents
Can you connect JBL speakers together?
Suppose you are one of the many people out there asking if you are able to connect JBL speakers together. Well, the answer is yes. You are able to connect more JBL speakers altogether with the use of a Bluetooth connection. Virtually 100 JBL speakers can be linked as one (just supported speakers that have the JBL Connect+ feature). It is easy to connect multiple JBL speakers together with the use of Bluetooth, and you are able to increase the sound level up to a hundred times if you want.
JBL Extreme, JBL Boombox, JBL Flop, JBL Pulse, and Charge speakers are integrated with the JBL Portable (formerly JBL Connect) feature, which allows connecting more JBL speakers all as one. In case you have more JBL speakers from the series mentioned above with JBL Connect, you are able to connect them and play music from each one at the same time. Remember, if you like to pair more JBL speakers, all must be armed with the JBL Connect+ feature and not JBL Connect.
Can you play 2 JBL speakers at the same time?
Yes. It is possible to play two JBL speakers at the same time. For example, you can pair JBL charge speakers and JBL Flip speakers at the same time as both of these speakers come with JBL Connect features. So, ensure to check first if the JBL speakers you want to connect are integrated with this amazing feature.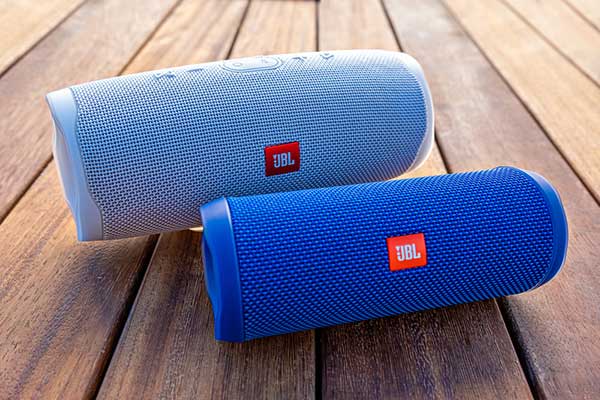 How to Connect Two JBL Speakers Together?
Knowing how to connect two JBL speakers together is about matching the perfect models with similar Connect features. Some JBL speakers have a Connect feature while others don't have. Another important feature to consider is the Partyboost. Ensure the JBL speakers you have at home bear the same feature.
Here are the simple steps on connecting two JBL speakers together:
Switch on your JBL speakers. You must make sure that your JBL speaker models are compatible.
Connect 1 speaker to the source device; it doesn't matter if it is a phone or laptop. Then set your JBL speaker into pairing mode.
Refer to the source device, phone, or laptop – and switch one the Bluetooth. Make sure you are seeing the name of the speaker as one of the devices to link with. Then, click the name of the device and begin playing.
When paired, the speaker must inform you with a voice prompt, an audio or blinking light to show that the source devices and your JBL speakers are successfully paired.
On the speaker, the one which is connected to your phone or laptop and then click the "Connect button."
Move to the other speaker and click Connect.
Play audio files or music on the connected phone or laptop via a typical music player or music app like Spotify. By now, you must have heard music blaring from the two JBL speakers.
Just click the Connect button if you like to stop the speakers from playing. You're not restricted to connecting two speakers. Provided that the speakers come with a connect feature or Playboost function, for which matter, you are able to connect many JBL speakers as one. A useful tip to consider is that when you are in the market for JBL speakers, you need to see first that these speakers you are planning to purchase can be connected. You can ask the dealer or the manufacturer, so you are sure prior to make a purchase.
Conclusion
You can connect two or more JBL speakers together to experience a remarkable surround sound. First, however, ensure that the JBL speakers you have come with the same features. This will make the process of connecting possible and easier.