Samsung Galaxy Buds are nifty rubber gadgets meant for learning, entertainment, work, and exercise. If you are a brand loyalist like me, you might have had high expectations when you bought these wireless earbuds. We all know that Samsung is a reputable global brand name with millions of loyal fans.
Unfortunately, some of their products do fall short of end-user expectations. One example is when your Galaxy buds are not charging and the red light is always on.
Table of Contents
To the first-time users and everyone else alike, it might be slightly hard to understand the meaning of those red lights or what caused the problem. Most times, such experience leads to specific questions like the ones highlighted here.
Why is the light on my Galaxy buds red?
Why is my left Galaxy bud not working?
What is the battery life of Galaxy buds?
How do I fix my Samsung buds not charging?
In this article, we'll look into the answers to some of these relevant questions. From here, you'll be able to find a practical solution to the specific problem your Samsung wireless earbuds are having. Bearing in mind that there is never a single cause of the Galaxy buds not charging, we'll look into multiple solutions proven to work perfectly for other users like you.
Galaxy Buds Not Charging and red LED always on: What Is the Cause?
When your Galaxy buds are not charging, there could be multiple reasons for that. However, you'll only find out if you are actively seeking a solution for that. In practical terms, understanding the cause of the problem will help you find a feasible solution to that. Here are some of the possible causes.
Some things are not just compatible, especially when it comes to charging your device. Using a non-compatible charger could be the exact cause of the problem you experience with your earbuds.
Moreover, your buds might not be charging because it is damaged, the software is outdated or the charging port is blocked.
How to Fix Galaxy Buds Not Charging?
Solution #1: Update the Software
You should know an update is needed when the charger disconnects randomly or stopped charging completely. Sometimes, this is the first thing you should try when your buds are not charging. No guesswork is required here. You just have to do the following.
Go to Galaxy Store or Google Play and download the Galaxy Wearable App
Try pairing your buds with your Galaxy phone. That should be visible in the wearable app when it is paired.
Put your buds into the Galaxy case and leave the lid unclosed
Look into the app and check About earbuds> Updated earbuds software
Download the latest version and install
After doing this, try charging your buds again and see what happens.
Solution #2: Clean the Charging Port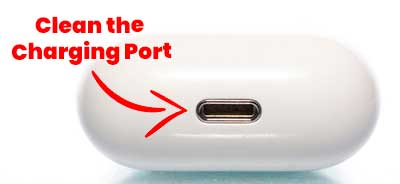 Sometimes, unnoticeable dirt can block the proper connection between your charger and the port. In this case, you can only notice if you check. The simplest option is to clean the port and connect the pin. When this is the cause of Galaxy buds not charging, you can have the problem solved immediately.
Solution #3: Use Original Samsung Charger
As stated by Samsung, this is one of the common causes they have found among complaining customers. Your best option here is to find and use an original, Samsung-approved charger.
Using the Galaxy Wearable App, you'll be able to reset your device to find out if it is the cause of your charging problem. Assuming you have tried restarting severally and it didn't work, do this.
Solution #4: Reset the Galaxy Buds
Open up the Galaxy Wearable App
Check About Earbuds and tap it
Choose Reset earbuds and confirm the reset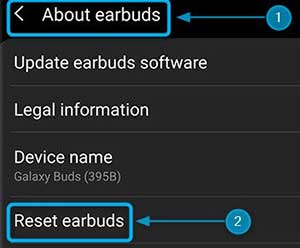 Brief Samsung Wireless Earbuds Review
Like most of the other Samsung products you'll find in the market, the Galaxy buds were made to fit perfectly into different contexts and use cases. It is packed with distinctive design and capabilities to deliver high-quality sound from one context to another. Among other things, this gadget boasts of water resistance capacity which is very important for people using during exercises.