BeatsX headphones are a pretty nice gadget you would like to own. With it, you'll have what it takes to enjoys different sound formats like music, podcasts, or learning-related content. However, the same gadget can act weird from time to time.
Whether you are a first user or not, you might have found yourself asking questions like –
Why are my BeatsX flashing red and white?
Why is the light on my BeatsX blinking?
How do I fix my BeatsX blinking red and white?
And many other questions like these.
In this post, we'll look into some of the practical answers to these questions. In addition to this, you might be able to spot some other tips on how to make the most out of your BeatsX In-Ear wireless headphones.
Table of Contents
Brief BeatsX Headphone Review
This is one of the best in-ear headphones from the brand, Beats by Apple. As noted earlier, you might be able to lose yourself in high-quality sound formats like music, podcasts, and others. This masterpiece promises up to 8 hours of battery life. Using the BeatsX earphones, you'll be able to activate Siri with RemoteTalk, control your music or take calls while on the go.
For the current owners, you might be experiencing some of the problems highlighted in this title. Let's look into some of the reasons for that and what you might be able to do.
BeatsX Flashing Red And White Lights
Especially for first-time users, it is usually hard to understand what's going on when your BeatX headphone starts misbehaving. Below are the meanings of those lights in most cases.
One Solid Red Light – this is probably not happening in a sequence with other colors. But when it happens, it means that the gadget is signaling a low charge. In this case, you just need to put it on charging as soon as possible.
Flashing Red Light Only – this one signals that the battery is almost empty.
Flashing Red And White While On Charge – here is the most common problem that a good number of BeatsX headphone users face from time to time. When the first two red light scenarios occur, your best option is to go and start charging the device. However, you may find out that that is continually blinking red and white lights. When this happens, it means that your BeatsX is not charging.
As you might have experienced, it is also impossible to turn it on when the red and white colors are blinking. Regardless of the cause, here are some of the best solutions proven to work for other users.
Also read: Beats Flex Flashing White Light: What To Do?
How To Fix BeatsX Blinking Red And White Lights
Solution #1: Update the Firmware
In some cases, the problem could be caused by an outdated system. When this is the cause, you just need to download the Beats Updater and follow the steps as you do for other similar updates. Follow this link to find the updater.
When this is done, try recharging and turning it on to see what happens.
Solution #2: Try Doing A Reset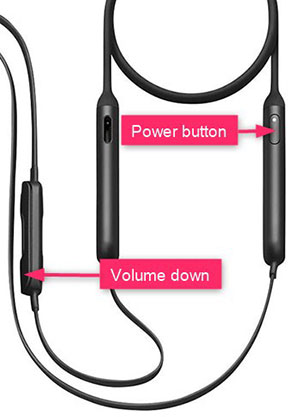 Depending on the cause of your issue, resetting the device might work surprisingly well in your case. The difficult part is that it is never easy to find out the actual cause of the problem your BeatsX headphone is having.
Meanwhile, you can reset it by pressing the power button and volume down button at the same time. Do this and hold for like 10 seconds. After the LED light comes on, you can release the buttons.
While this solution doesn't work for many people, your best option is to try it and see what happens. Again, start charging and try turning it on after a while.
Solution #3: Check the Wire Connection
Between the connecting wire and the microphone part, it's possible to find a disconnection sometimes. Here is exactly what many people have experienced. Interestingly, you can only find out if you check. The major cause, in this case, is that the weak water-resistance strength of this device.
Try checking it and see if there is a slight disconnection you can glue at the fusion point.
Solution #4: Call Apple or Take It To Them
Some users have found a solution to the BeatsX flashing red and white problem by calling Apple directly. It is either they replace it or direct you on how to solve the problem.