You've just bought a new pair of Heyday wireless earbuds and you're eager to start using them. But before you can enjoy your music, you need to know how to pair them with your device. Fortunately, the process is quite simple and only takes a few minutes.
Here's a quick guide on how to pair your Heyday wireless earbuds. Once you've followed these steps, you'll be able to enjoy your music to the fullest!
How To Pair Heyday Wireless Earbuds?
We can say that there are two important steps when you want to pair your Heyday wireless earbuds with your device.
The first is to activate pairing mode on the Heyday earbuds, and the second is to find the earbuds on your device and connect them. After that, we can test whether the pairing was successful.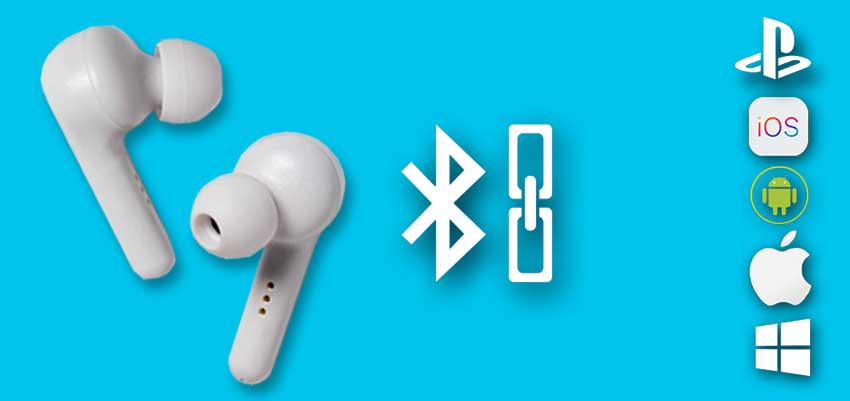 STEP 1: How To Put Heyday Earbuds In Pairing Mode?
Before you try to pair your heyday earbuds with your device you need to make sure the earbuds are well charged and that the device and the earbuds are not too far from each other.
1. Remove the Heyday wireless earbuds from the charging case and they will power on. This is enough to put them into pairing mode.
In case you don't have the charging case and the earbuds are turned off, please press the earbuds for a second and a half to turn them on.
NOTE: Before we continue you need to know when the earbuds are ready to connect and when the connection has been successful.
While the earbuds are connecting to your device the right earbud will blink red and white rapidly.
When the earbuds pair successfully you should see a solid white light on the left earbud.
STEP 2: Find The Heyday Wireless Earbuds On The Device And Connect
When your device finds the Heyday wireless earbuds they should show as HEYDAY EARBUD 04 or some other number like 05, 01, 02…
Pair Heyday Wireless Earbuds To Android Phone
Here are the steps required to discover the heyday earbuds on your Android phone.
Unlock your Android phone
Swipe down from the top of the Home screen.
Tap on the gear icon to enter Settings.
Tap on Bluetooth and activate it if necessary.
Let your Android phone discover the Heyday earbuds. If necessary tap on Scan.
When you see HEYDAY EARBUD 04 tap on it and then click on Pair.
You can test the earbuds now.
Pair Heyday Wireless Earbuds To iPhone
Pairing your Heyday wireless earbuds with your iPhone is pretty simple and straightforward.
After you unlock the iPhone, tap the Settings icon.
Tap on Bluetooth. If it isn't active, tap on the slider button to activate it.
Check the OTHER DEVICES section and look for HEYDAY EARBUD 04.
Tap on it and the earbuds and the iPhone should pair.
Test your audio now.
Pair Heyday Wireless Earbuds To Windows 11
There should be no problems connecting your Windows 11 laptop with your heyday wireless earbuds.
If there is a Bluetooth icon in the taskbar, right-click on the icon and select Add a Bluetooth device.
If you don't see the Bluetooth icon, click on the Start button in the taskbar, and in the search bar type "Bluetooth". When Bluetooth and other devices settings appears, click on it. Click the slider button on the far right of the screen to enable Bluetooth and then click on Add Device.
When you click on Add device you should see a window saying that you have to choose the type of device you want to add. Click on Bluetooth here.
Your Windows 11 laptop will search for the earbuds now and when you see HEYDAY EARBUD 04 on the list click on it.
If prompted to pair a new device click on Allow and they will connect.
You can test the connection now.
Pair Heyday Wireless Earbuds To MacBook
Let's see how to pair your Heyday wireless earbuds to your MacBook.
Activate Bluetooth first. Click the Apple logo and Select System Preferences. Then Click on Bluetooth.
You should see HEYDAY EARBUD 04 in the list of devices.
Click on the Connect button.
If prompted, allow the connection.
Test your earbuds now.
STEP 3: Now Confirm That Pairing Was Successful
We have already said that there should be solid white LED light on the left earbud when your device and the heyday earbuds pair successfully.
However, it is better to test this by playing one of your favorite songs.
Check out these articles as well:
Summary
As you can see from this article, pairing the earbuds with your device is simple and only takes a few steps. No matter whether you want to pair them with your iPhone or Android phone, or your computer, we believe that you won't have any issues when you try to pair your Heyday wireless earbuds with your device.