Since Apple got rid of the 3.5mm headphone jack when they introduced the iPhone 7 back in 2016 most people thought this was the end of wired headphones and earbuds. Luckily, there are many excellent earbuds that can be connected to the lightning port.
We have selected the best lightning earbuds under $50 you can use with your latest iPhones.
Table of Contents
---
---
Things to consider when buying Lightning earbuds
If you have already decided to buy the best lightning headphones for your iPhone or iPad, there are certain things you need to pay attention to. Otherwise this can be a really tiring thing to do. Now let's take a closer look at how to choose the best lightning earbuds under $50.
Build Materials – The quality of the materials used to build the earbuds generally dictates how long they are going to last. The last thing we'd like to see is our earbuds to fall apart shortly after we bought them. So, if you choose aluminum over plastics you won't make a mistake.
Warranty – Inform yourself about the warranty offered by the manufacturer and what type of damage it covers.
IPX rating – If you are into jogging and cycling or physically active and plan to use your earbuds during these activities it is wise to check whether your earbuds are waterproof and dust-proof. Your sweat and weather conditions can impact the performance and durability of your earbuds.
Comfort – Are your earbuds ergonomic and do they come with additional silicone eartips for different ear sizes? If they fit well, they won't fall off the ears easily and the sound quality and sound isolation will be better.
Remote and mic – Almost all lightning earbuds come with a remote with a built-in microphone on the cable. Make sure whether the remote is easy to use. The built-in mic will make your life easier because you can activate Siri on your iPhone and do most tasks hands free.
Sound quality – the audio quality is different between products. If you have the chance to test the earbuds before you buy them, do that. Take note about the bass and frequency response which should be between 20Hz-20KHz.
Sound Isolation – generally there should be a note about nose cancellation or sound isolation on the package. You would like to buy earbuds that have some sound isolation to protect you from the surrounding sounds while you listen to your music.
---
Lightning Earbuds: Advantages & Disadvantages
Advantages of Lightning earbuds
Higher quality audio playback when compared to standard earbuds
Audio is purely digital
They have their own built-in DAC (digital-to-analog converter)
You don't need an adapter if you have an iPhone or iPad
Disadvantages of Lightning earbuds
You can use them only on your iPhone or iPad.
Charging the iPhone or iPad and using these earbuds at the same time is not possible.
---
Best Lightning Earbuds under $50
---
You can buy these earbuds in six different color combinations. Out of these six combinations, two do not fit into our "under $50" category. They are Satin Silver and Matte Black. The other four fit into this category and you can choose between Blue, Yellow, Coral and Sating Gold.
The sleek ergonomic design of the Urbeats3 earphones will be your perfect companion in every situation. You can use the built-in microphone to take calls, control your music or talk to Siri. It only requires a push of a button. They are highly portable thanks to the tangle-free flat cable and magnetic earbuds. The sound quality of these earbuds will give you a great listening experience.
The excellent design and variety of colors to choose from, plus the amazing Beats sound are a sure sign that the urBeats3 won't disappoint you. The manufacturer took extra care about the comfort of these earbuds. Additionally, the tangle free flat cable and magnetic earbuds make them highly portable which is a great advantage today.
These earbuds are designed to provide optimal audio quality and excellent bass. They provide excellent noise isolation although they are not primarily noise-cancelling earbuds.
The built-in microphone makes it easy to make calls. And with just a touch of a button you can activate Siri.
Pros
Excellent sound isolation
Great sound
Tangle-free flat cable and magnetic earbuds
Volume control
Several color options
Cons
iPhone and iPad compatible only
They aren't waterproof
No noise-cancelling feature
Not packed in a box
Conclusion
We are more than satisfied with what these earbuds have to offer. Highly recommended!
---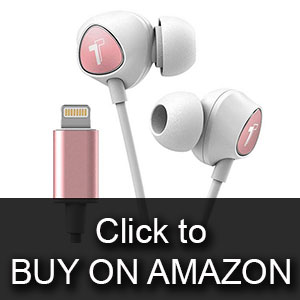 Another pair of good quality lightning earbuds worth mentioning are the Thore V100 iPhone Earbuds with Lightning Connector. They are Apple MFI Certified and will easily connect to any iPhone model with Lightning port. You can get them in three colors – Black, White Silver and Rose Gold.
The Thore V100 will definitely give you the design and sound quality like some more expensive earbuds. You don't have to worry about the audio output because they are RVRB-8 digitally tuned and you will be more than satisfied with the top-quality crisp and clear sound.
You can easily control these earbuds using the built-in remote which allows you to activate Siri, play and pause the music, or adjust the volume. They also have a built-in microphone
The comfort is guaranteed thanks to the 3 different sized ear cushions gels. You will easily get the most comfortable fit so you don't have to worry they will slip out of your ear with the slightest swift of your head.
Pros
Very good sound isolation
Volume control and microphone
Carry case
Back up cushions
Cons
You can have problems distinguishing the volume button and play/pause button
---
What's included?
PALOVUE Earflow earbuds
a carrying case.
3 pairs of eartips
a cable clip
---
You can get the PALOVUE Earflow lightning earbuds in four different colors: Metallic Black, Metallic Red, Metallic Silver and Nylon Black. They are better than the Apple earbuds both in comfort, design and sound quality.
The design and materials used to build these earbuds give a feel that you are dealing with something durable. The materials used for the 0.8m long cable ensure they remain tangle free. The magnetic earbuds just make it easy to wear them around your neck, they will stick to each other. The protective case that comes with them is there to make sure they are protected from damage in your pockets, bag or purse.
The controller on the cable allows you to control the volume, play and pause the music, take calls and activate Siri. This of course allows you to effectively control most of the things in a hands-free manner. The built-in microphone provides excellent clarity for phone calls.
They are designed to reduce ambient noise and deliver high sound quality thanks to the built-in DAC and dynamic driver. The sound is crisp and clear.
What we didn't like was that the PALOVUE Earflow earbuds are not noise-cancelling and they aren't waterproof. However, they definitely are worth the money.
Pros
Great sound
Comfortable
0.8m long cable
Sturdy build
Built-in microphone
Cons
They aren't waterproof
May not fit all ear types
Not suitable for jogging
No noise cancellation
---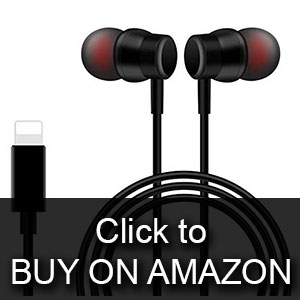 What's included?
Portable carry bag
Multiple size earpieces
---
The Xinber earbuds are a good choice if you need good sound and are tired of Bluetooth or headphone adapters for your iPhone or iPad. At the same time, they are budget friendly and they seamlessly connect to all iPhones from 7 to 11 PRO Max.
The fashionable and ergonomic design allows you to use these earbuds while you are doing exercises, jogging or cycling. When you find the right soft silicone tips they will fit perfectly into your ears. This guarantees comfort and optimal noise isolation.
You will love the controller on the cable which is accompanied with a high-quality microphone. You can easily play/pause music, control the volume and tracks, and answer and end calls.
Pros
Noise cancelling
Decent bass
Comes with a portable bag
Cons
Thin wires. It would be better to have braided ones.
---
It would be odd to make a list of the best lightning earbuds under 50 and not to mention the original Apple EarPods. They were designed following the geometry of the ear which is supposed to make them more comfortable than any other earbuds.
The build quality of the Apple EarPods quite decent and equates to the other lightning earbuds in the "under $50" price range. The design of these earbuds is great and the main idea was to make one size to fit everyone. However, this is not always the case.
The audio output is not so great but they do the job. On the other hand, the in-line microphone provides superb call quality. At the same time, the three-button remote makes handling calls and controlling media easy and simple.
To sum things up, the Apple EarPods look great. They are comfortable and the in-line mic works perfectly well. However, even for this price they feel a bit fragile and the sound quality could be better.
Pros
Traditional design
Budget-friendly
Great in-line microphone
Cons
Fragile
Easily fall out during exercise
---
Frequently Asked Questions
What are lightning earbuds?
Lightning earbuds are earbuds you can connect to your iPhone or iPad through the lightning connector. The lightning port was introduced when Apple decided to get rid of the headphone jack with the introduction of iPhone 7.
How to connect lightning earbuds to iPhone or iPad?
To use your lightning earbuds simply plug them into the device with the Lightning connector. However, keep in mind that you won't be able to charge your device and listen to music with the lightning earbuds at the same time.
At the end
As an iPhone user you should always take care whether the earbuds or other piece of equipment you plan to buy is compatible with your phone. Luckily, in this case you can easily choose the best lightning earbuds under $50 without having to worry about compatibility. All the earbuds listed above are for Apple devices only so now you can make your decision based on your personal preferences and budget. We hope we have made your task to choose the right lightning earbuds a bit easier for you.